Magnificent! Charming! Absolutely fantastic! The only ways I can describe this ultimate Walt Disney World bucket list experience.
…and yes, it was an experience!
This is THE place!
Victoria & Albert's is Orlando's only AAA 5-Diamond award winning restaurant and one of only three AAA 5-Diamond restaurants in Florida.
Disney's Victoria and Albert's Restaraunt
THIS POST MAY CONTAIN AFFILIATE LINKS. PLEASE READ MY DISCLOSURE FOR MORE INFO. Which means if you click on any of the links, I'll receive a small commission. This helps support the website and allows me to bring you more content. Thank you for your support!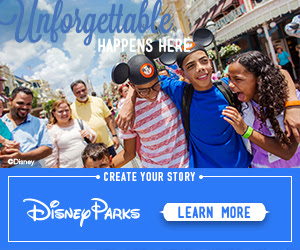 Victoria & Albert's Review
Prior to my arrival I received a call from the concierge about three days out to confirm my reservation. They also wanted to know the name of each person in my party and if there were any allergies. When we arrived, we were warmly greeted and seated promptly.
[alert alert_heading="Note the dress code: " alert_text="For guys a jacket is required. Women must also dress up nicely." alert_style="alert-warning"/]
As I walked through the grand doors, I was pleasantly welcomed by the ambiance and décor. My waitress and waiter were very knowledgeable, friendly, and professional. They made me feel important and were not at all intimidating. They took their time and explained every item on the exquisite menu. The staff also made me feel comfortable doing my blogging thing (since I was taking lots of pics).
As we sat in the superb restaurant, we were treated by the talented harpist playing classic Disney songs. This was the most lavish dining experience I'd ever enjoyed. Each dish was skillfully presented combing a variety of complex layers of flavors. The wine pairing was also carefully crafted by the talented sommelier.
Victoria & Albert's takes reservations up to 6 months (180 days) in advance, and they fill up INSTANTLY! I recommend booking as soon as possible if you are celebrating a special occasion on your next Disney vacation. I was super lucky to get a reservation within 7 days of my requested date. See the FastPass+ article to read my reservation hack.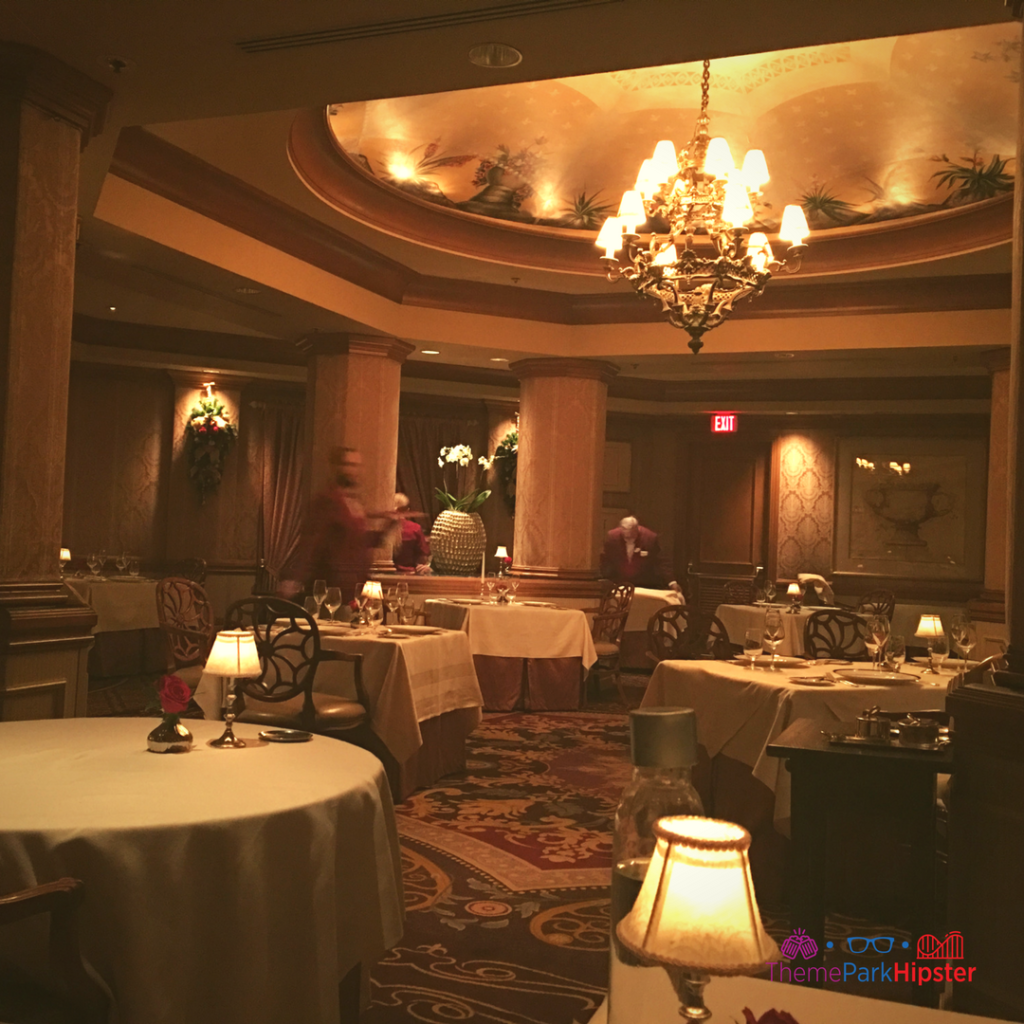 There are three areas within Victoria & Albert's to enjoy your meal:
Queen Victoria Room
The Queen Victoria room features a 10-course meal, at $235, with the option for wine pairings (an additional $150).
The Chef's Table
The Chef's Table allows you get an up close and personal experience with the food and the great mind behind the cuisine. At the Chef's Table, Chef Scott Hunnel generally starts the evening with a champagne toast as he and the team prepare an epic dining adventure just for you. The Chef's Table currently costs $250 per guest. Reservations are even harden to get and book up quickly.
Disney World Hotel Deals & Discounts
Victoria & Albert's Food Breakdown
Victoria & Albert's showcases modern American cuisine with impecable ingredients sourced from around the world, including truffles from Italy, Russian Osetra caviar, beef from Japan, poulet rouge from North Carolina and shrimp from local Florida waters. Most of the ingredients are locally sourced or sustainable for fresh ingredients by Chef Scott Hunnel and his team.
[alert alert_heading="Please note: " alert_text="The menu changes often based on the season, so what I describe today maybe different during your dining experience." alert_style="alert-warning"/]
At the time I was presented with two menu options, a 7-course or a 10-course meal. I chose the 7-course with a wine pairing. You can order a glass or bottle of a specific wine with your meal. They also provide three different breads, each with its own special butter.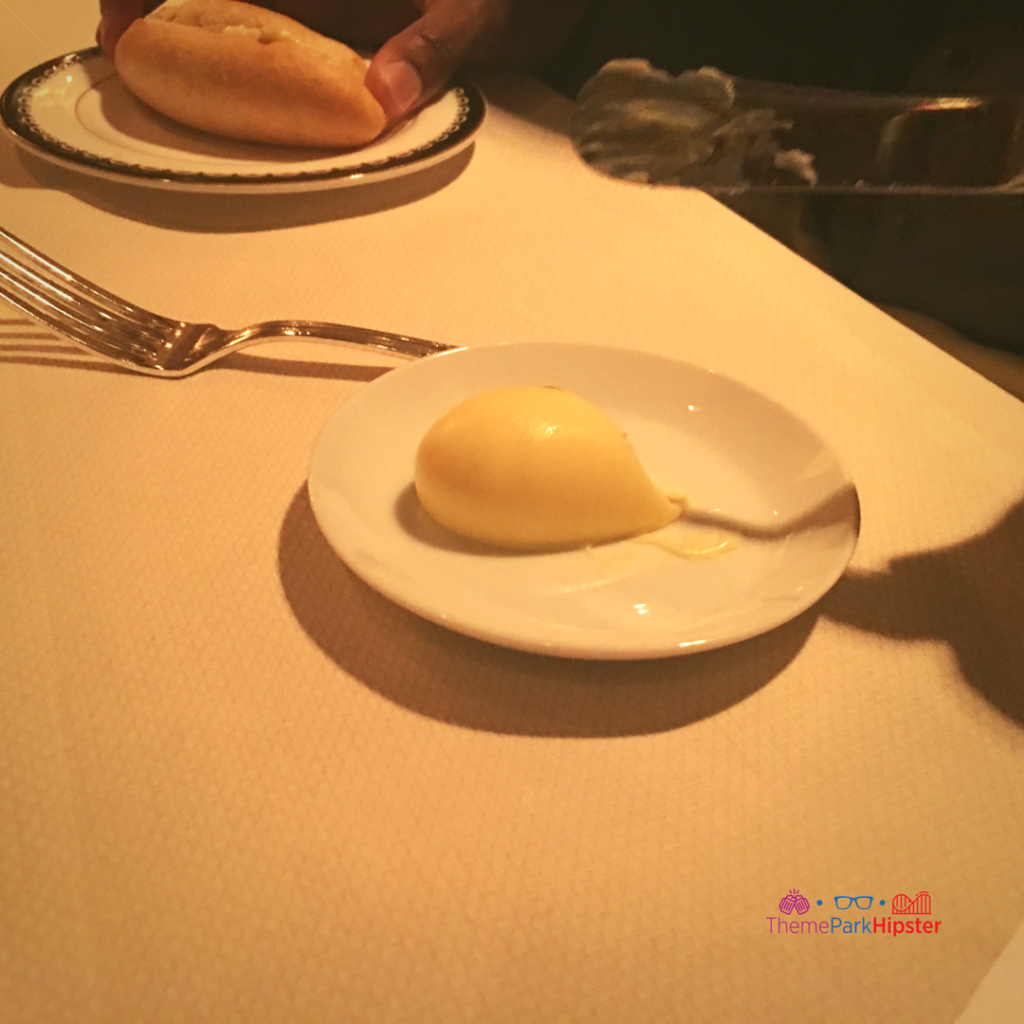 That's right!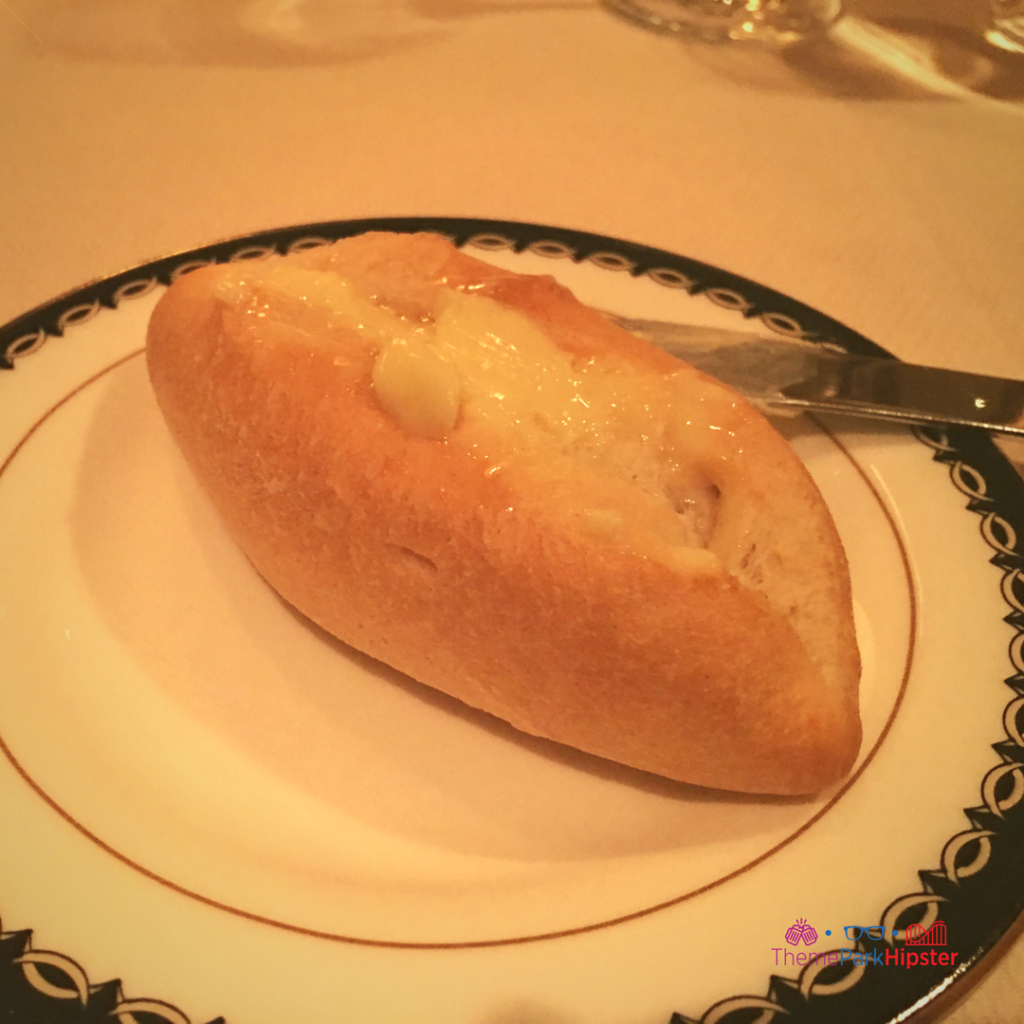 Three different butters were offered to compliment each bread course.
Our personalized menu was printed with the date, the occasion, and our names on it.

First Course: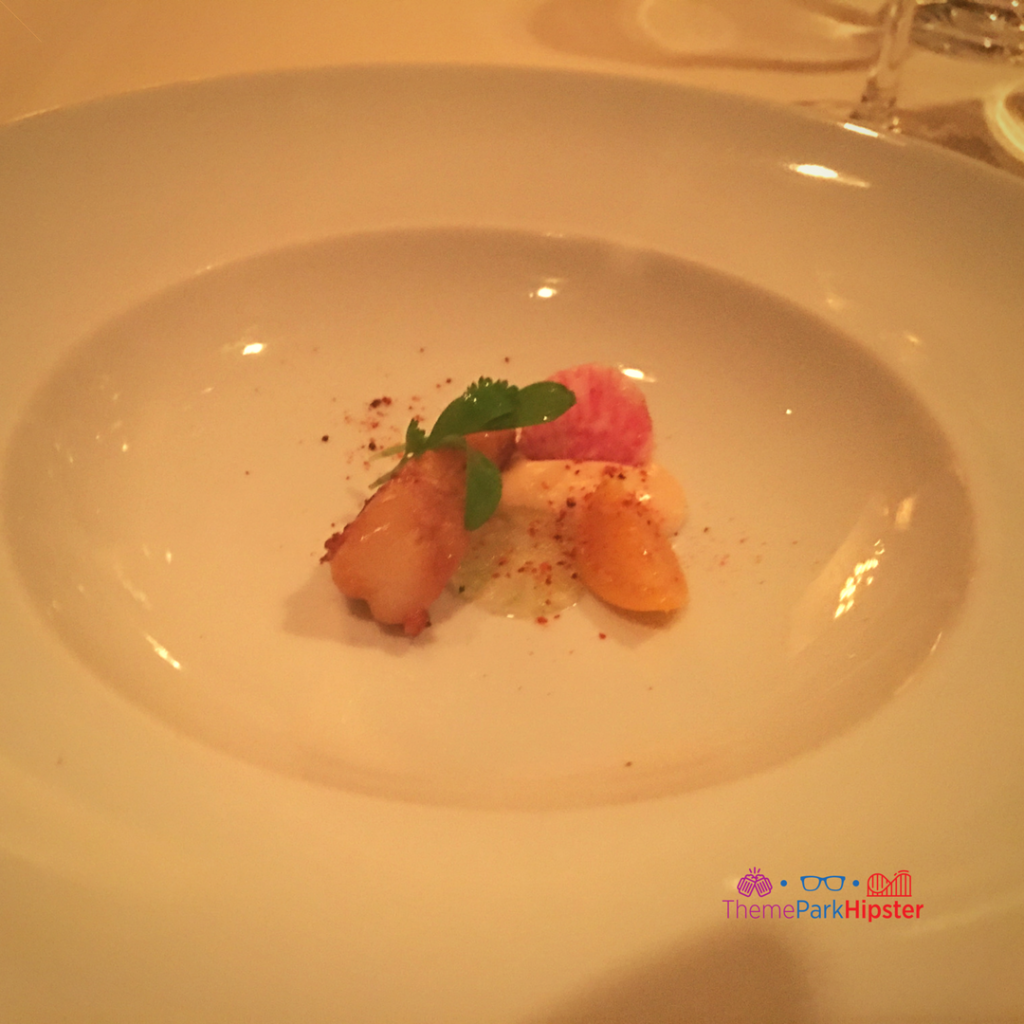 Amus-Bouche Paired with Drappier Carte d'Or NV – A refreshing shrimp starter course meant to "entice" the palate.
Second Course: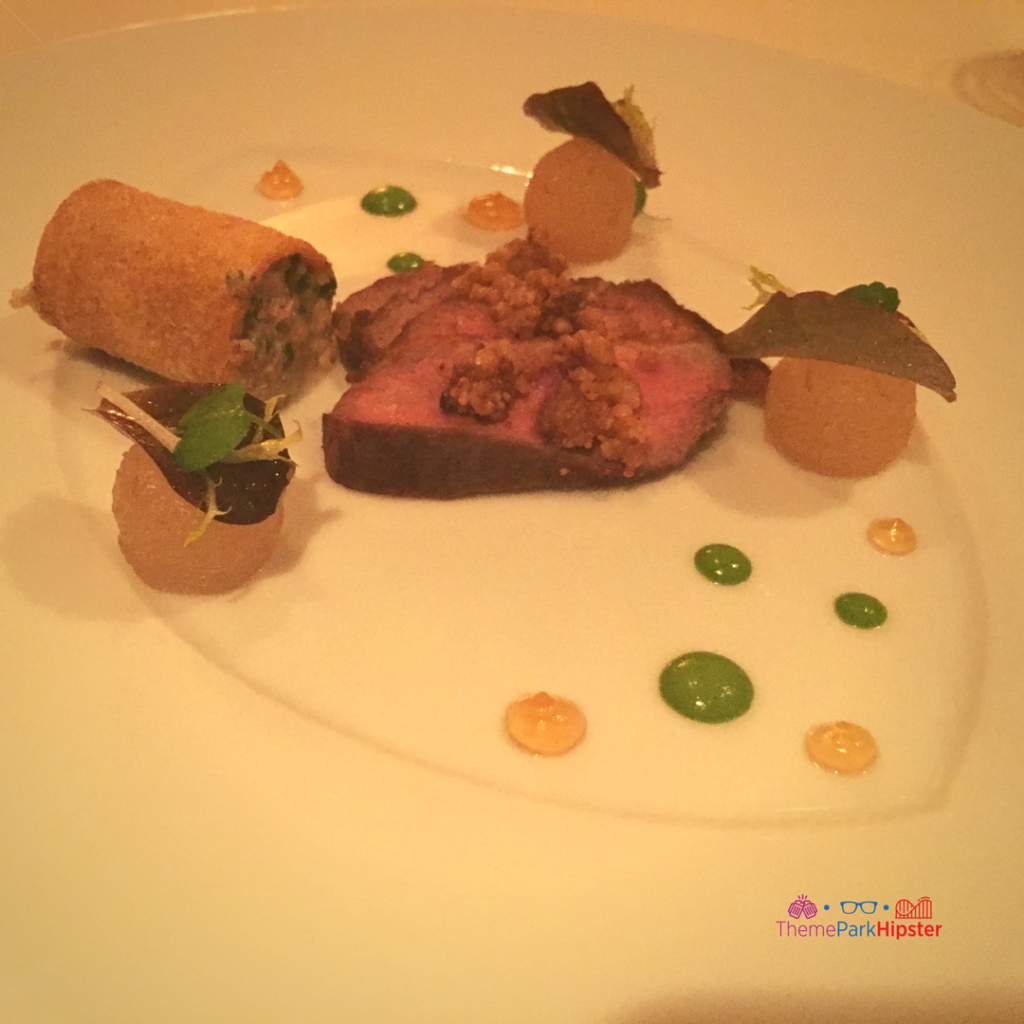 Seared Duck Breast with Farro and Asian Pear Paired with Tablas Creek Cote de Tablas Blanc 2015 – Perfectly cooked duck with crunchy farro and sweet balls of pears.
Third Course: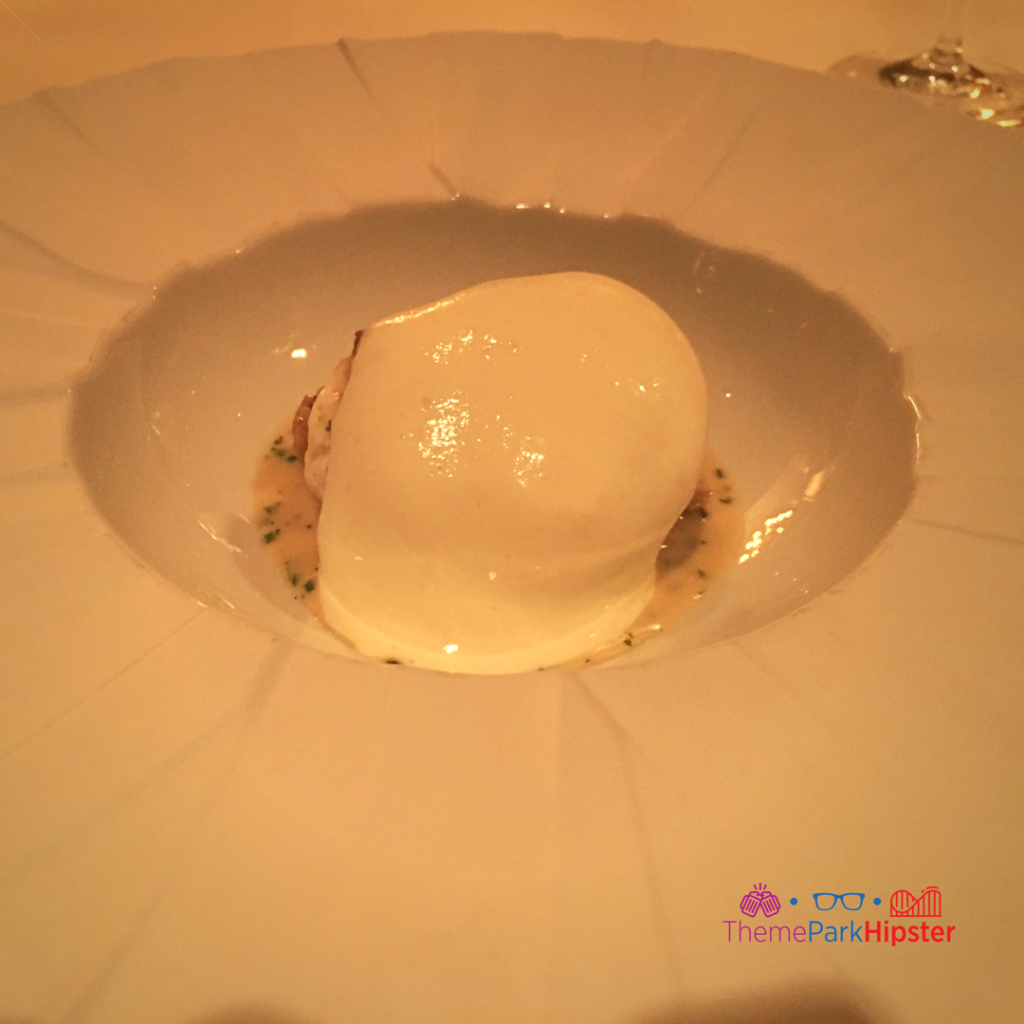 Alaskan Halibut with Baby Artichokes and Parmesan Foam Paired with Domaine des Baumard "Clos du Papillon," Savennieres 2010 – Sweet fluffy fish with creamy Parmesan topping and my favorite dish of the evening.
Fourth Course: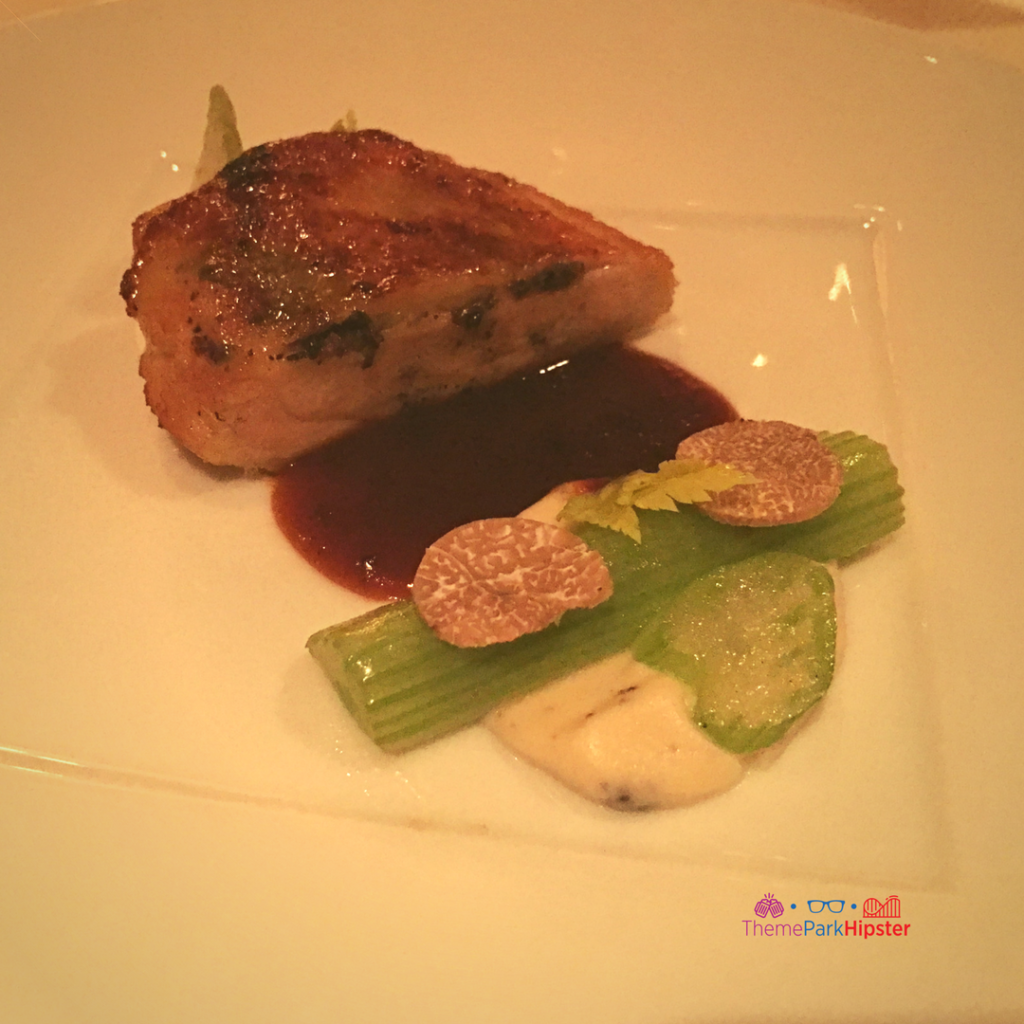 Green Circle Chicken with Black Winter Truffles and Celery Root Puree Paired with Harford Court Land's Edge Pinot Noir, Sonoma Coast 2014- A terrific piece of tender chicken and the best tasting celery root puree I've ever had.
Fifth Course: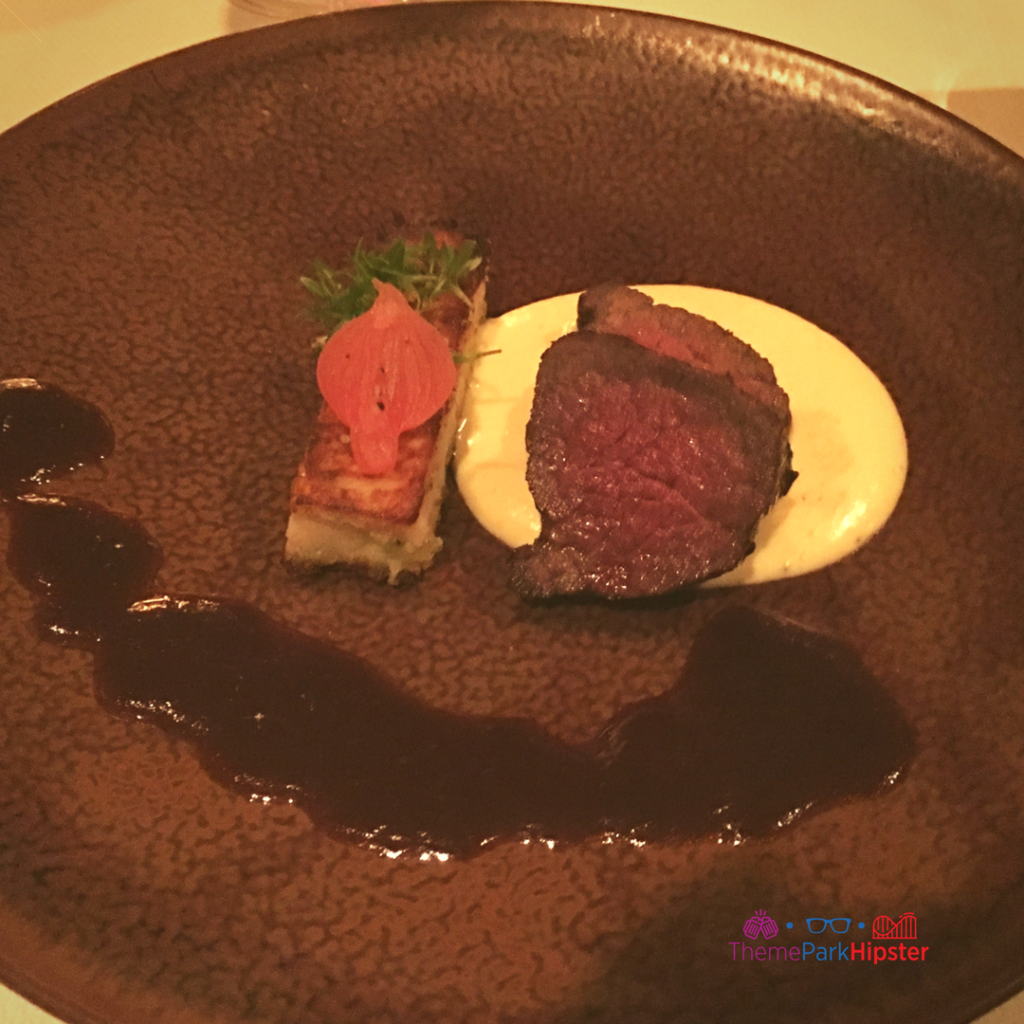 Australian Kobe-Style Beef with Rosemary Jus Paired with Groth Cabernet Sauvignon, Napa Valley 2013 – I ordered my beef medium-well, which I thought the chef would frown upon, but he was wonderful at accommodating my request and created a delicious masterpiece. The velvety potato stick took the dish to the next level!
Sixth Course:
Selection of Cheese from the market obtained from all over the globe and served in small amounts.
Seventh Course: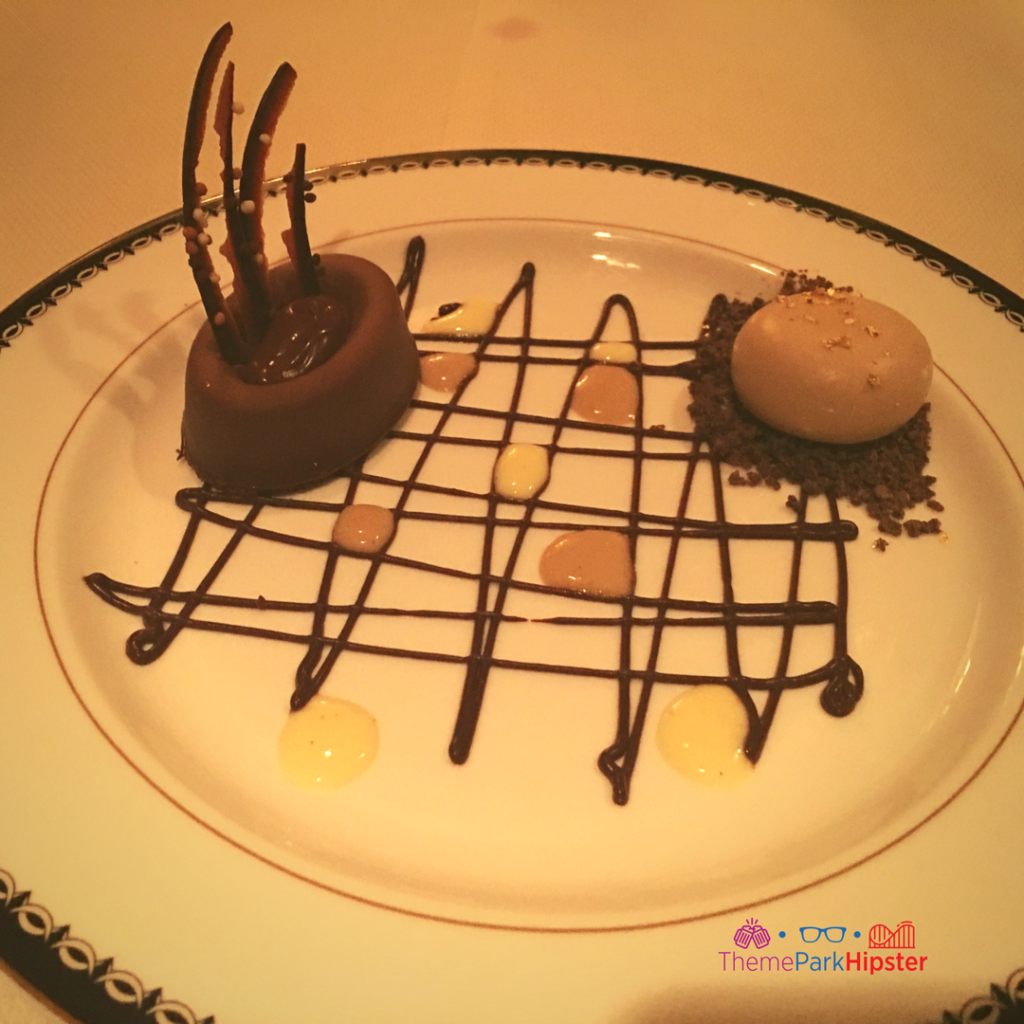 Chocolate Bar with Coffee Panna Cotta – A divine piece of chocolaty heaven accompanying a creamy, coffee flavored panna cotta.
Coffee Service:  Sulawesi Island Coffee from Joffrey's served in a Cona Coffee vacuum coffee maker. A cool classic way of making coffee and exciting to watch.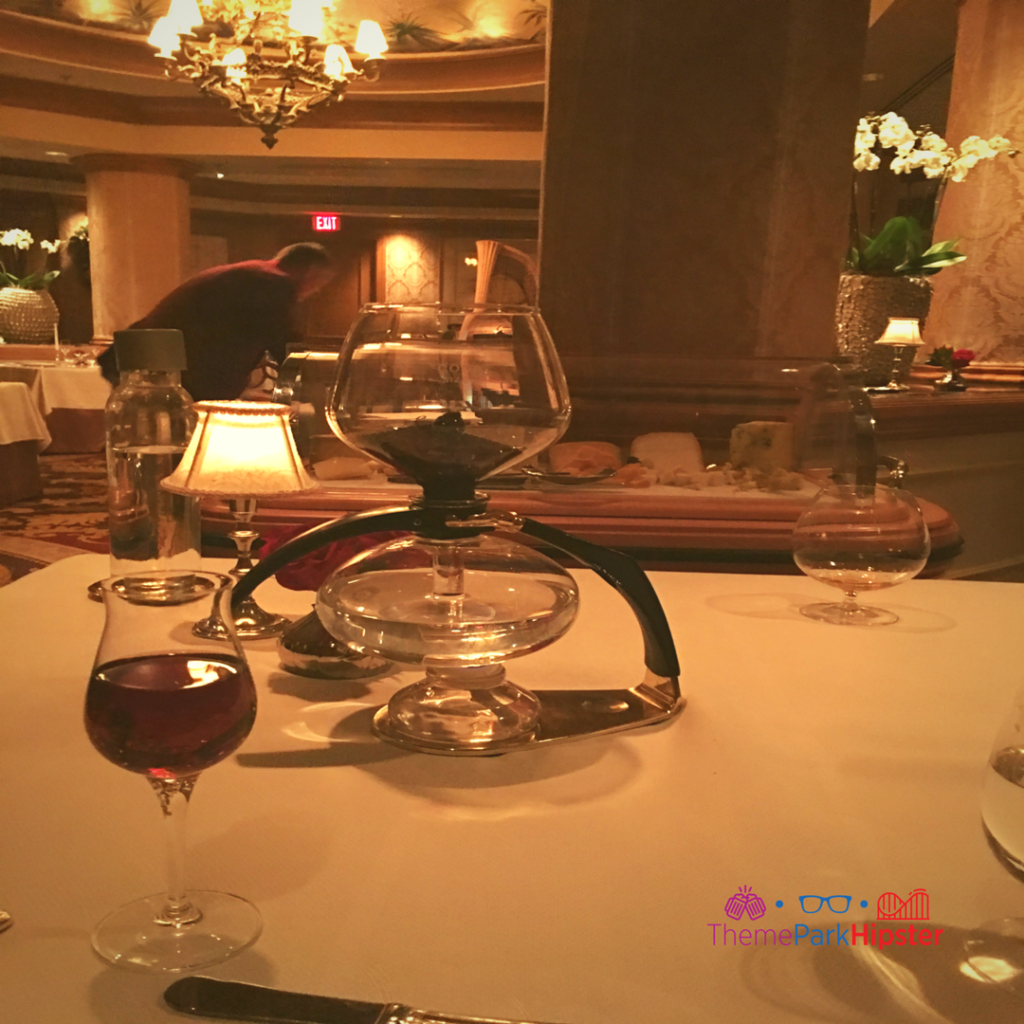 Remember before you go:
There is a dress code. A dinner jacket is required for men (tie optional) and dress or pants ensemble for women. If you show up without a jacket, a loaner will be provided.
You have two menu options: 7 or 10-course meal menu.
This will be a costly dinner. Budget for $200 minimum per person.
This place can be booked six months out, so reserve your spot early.
Dinner may take about 2.5 hours to do the 7-course meal and about 3 hours for the 10-course meal presentation.
Children under the age of 14 are not permitted.
Victoria & Albert's accolade highlights include:
AAAFive Diamond Award
Forbes Travel GuideFour Star
Mobil Travel GuideFour Star
Wine SpectatorBest of Award of Excellence
James Beard Foundation– Nominee for Best Chef in the South – Scott Hunnel
SantéRestaurant Awards – Grand Award Winner Culinary Professional of the Year – Scott Hunnel
Florida TrendGolden Spoon Hall of Fame – American Regional
ACF-Certified Executive Chef – Scott Hunnel
Overall, it was quiet a memorable night ending with outstanding coffee and wonderful dessert! A chocolate tray also came around, in addition to the dessert, to cap the night.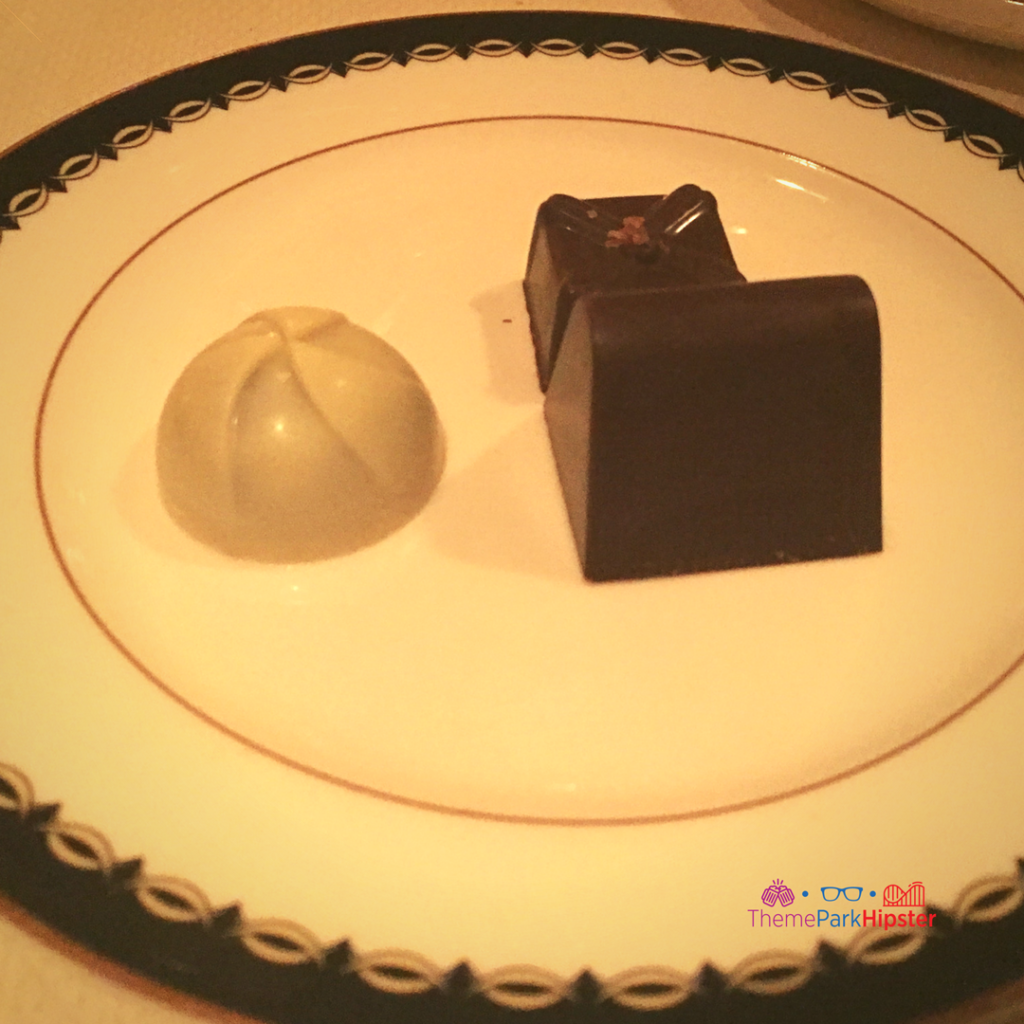 They will pack the one-of-kind of chocolate to go for you and give the lady of your party a beautiful rose.
Once the 7-course dinner was over, my husband and I received a small Orange-Date nut bread to take home. This delicious dense nut bread is baked fresh daily by the Grand Floridian Bakery. Ingredients include, eggs, flour, sugar, sour cream, butter, orange peel, pecans, dates, dried cranberries, ripple sec, baking soda and baking powder.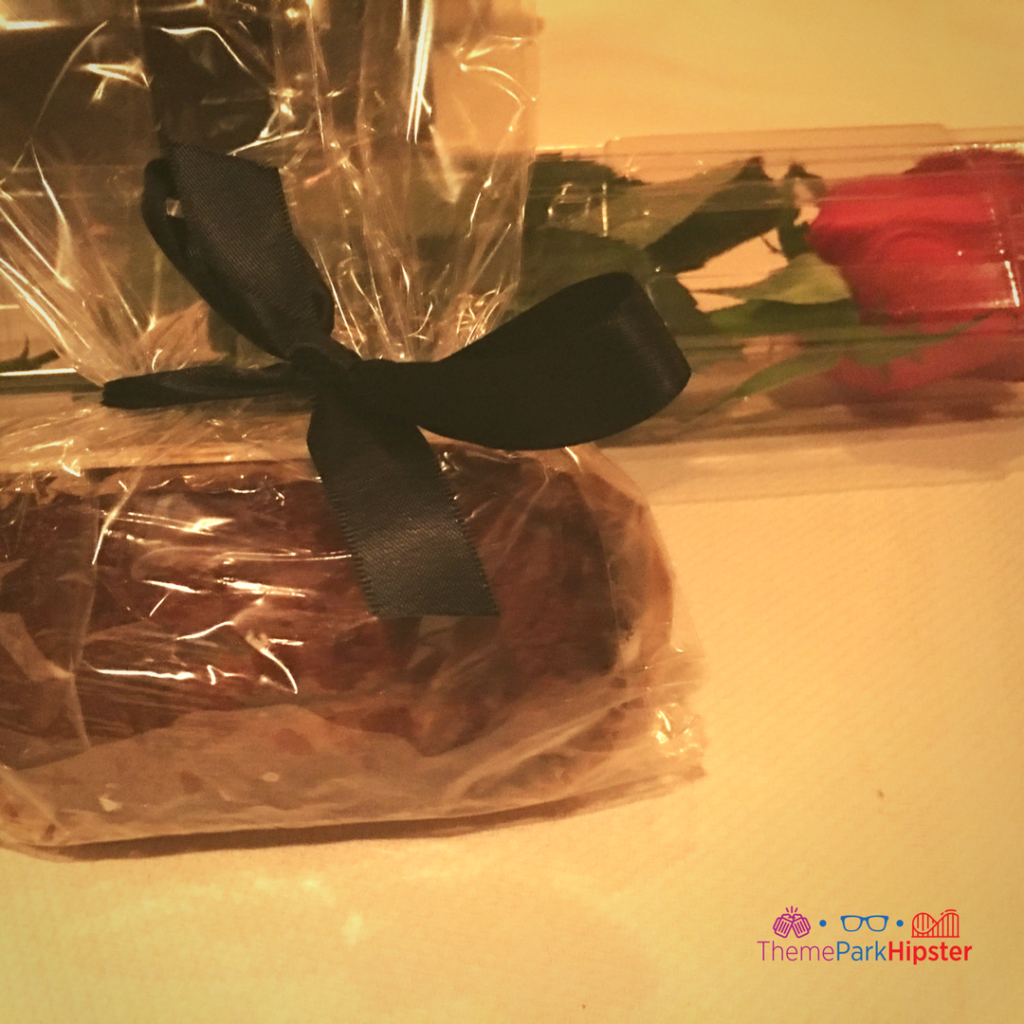 The final bill came to around $516.53 (plus a $100 tip) for the two of us. This is definitely a place you want to go to celebrate something special. Every single item presented was phenomenal. I was able to taste and explore the passion the chef placed into each beautifully prepared dish.
You have to place Victoria & Albert's on your Disney bucket list! I give this restaurant a 5 out of 5 stars.
Have you ever been to Victoria and Albert's?
Do you want to go?
If so, let me know below.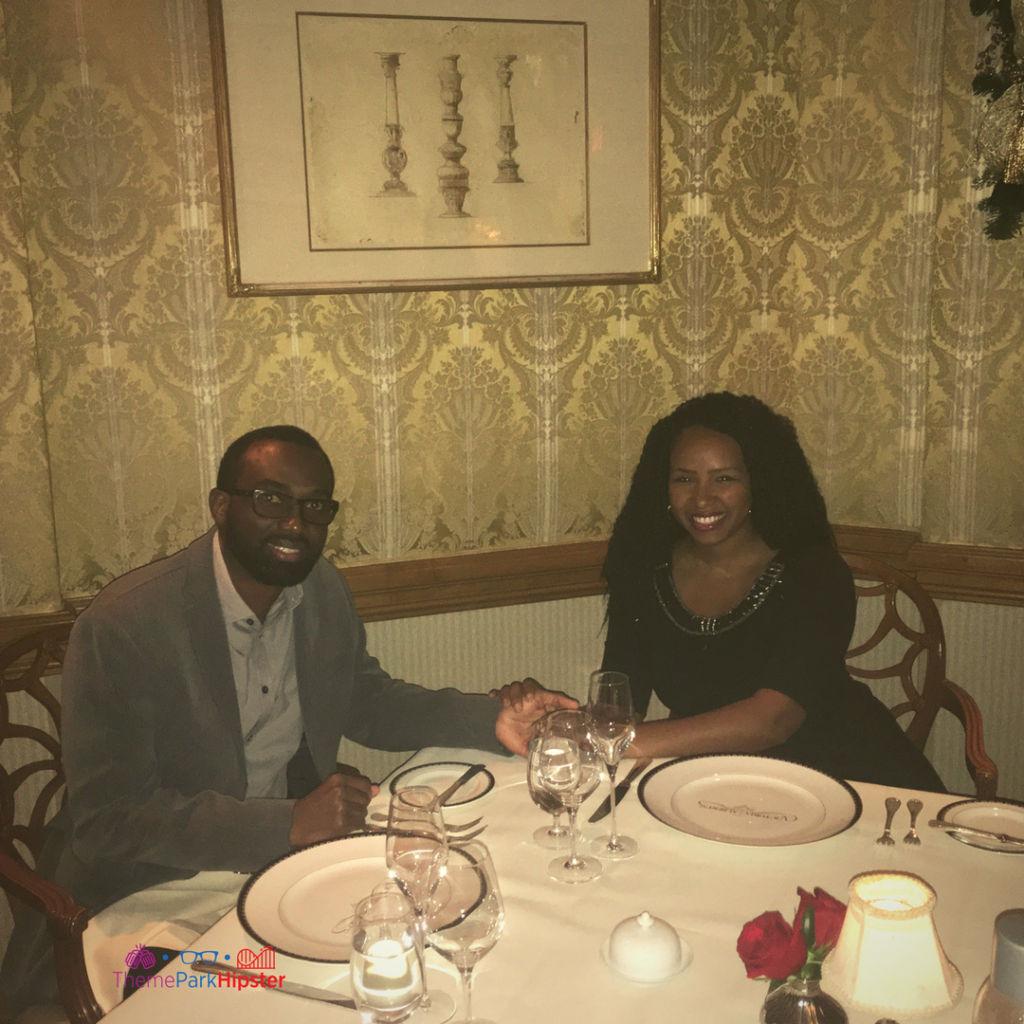 Want more theme park tips? Check out the theme park tips page. If you're thinking about going to Disney alone, then read the top 18 tips. Are you planning a Disney vacation soon? Read the Disney Vacation Planning Guide for your next dream trip!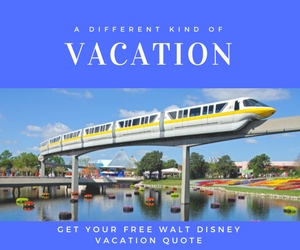 Don't forget to discover the new magical and mysterious Disney adventure of Pandora – The World of Avatar at Animal Kingdom® Theme Park.
If you enjoyed this article, then you'll love these:
For more theme park news, discounts, tips and guides, subscribe to the newsletter!
I'm super grateful when you share my posts on Facebook, Twitter, or Pinterest. It helps spread the word about ThemeParkHipster and allows me to keep bringing you great content.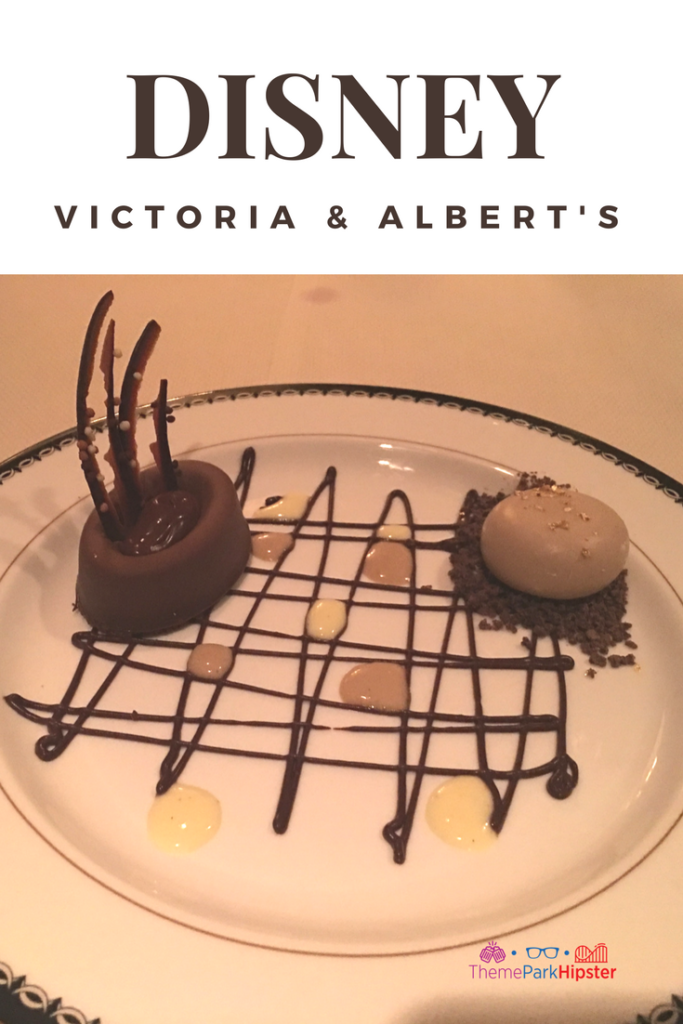 Until next time, Happy Park Hopping Hipsters!
NikkyJ