Did you know you could do the holidays at Disney for FREE?!? Christmas resort hopping at Walt Disney World is my new yuletide tradition. It's a fun way to enjoy the Disney life on a budget and you'll be able to save one of your park hopper days on your trip.
It's something I tried for the first time a few years ago with OutdoorsyDiva and now I am totally hooked!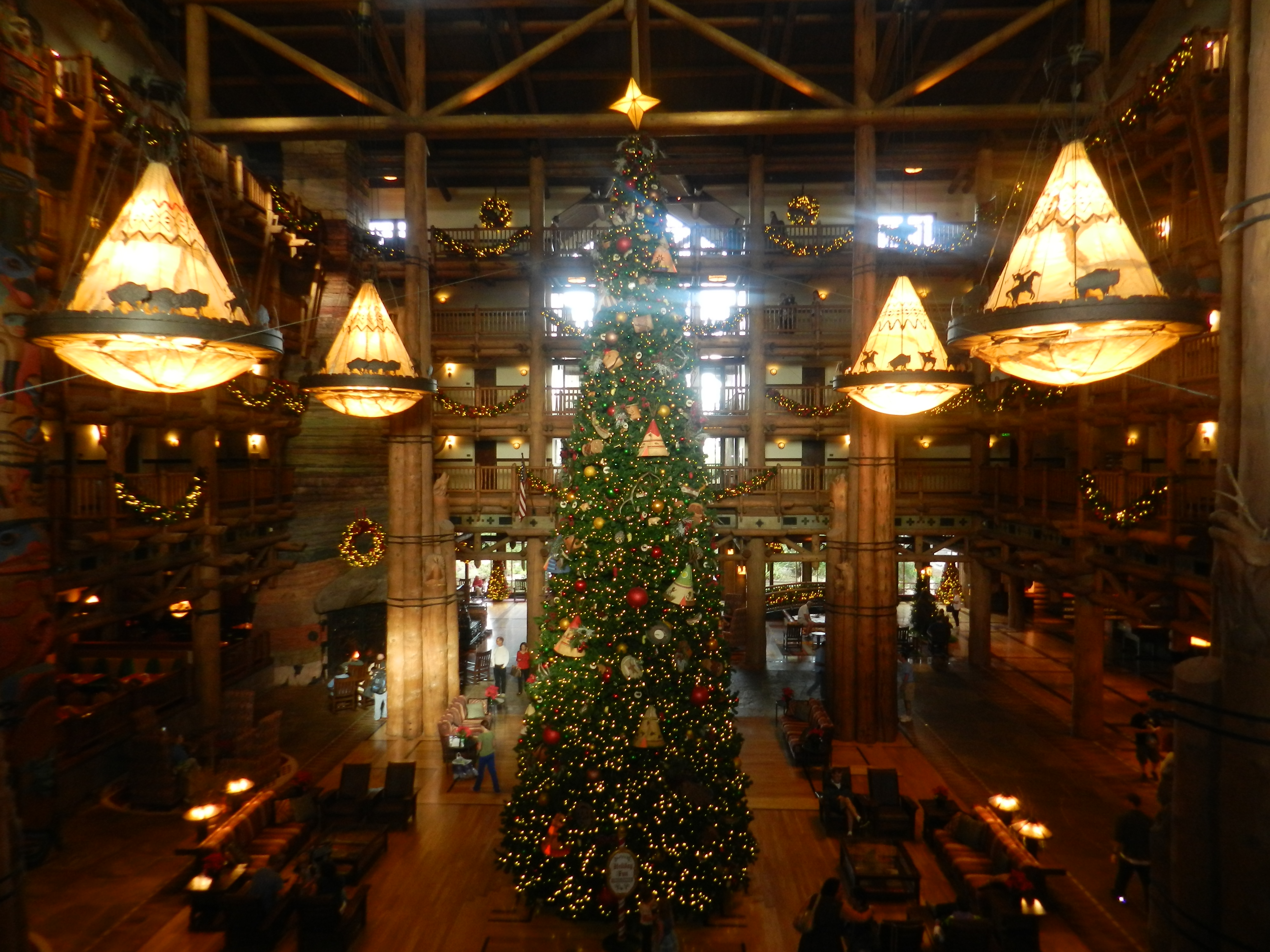 THIS POST MAY CONTAIN AFFILIATE LINKS. PLEASE READ MY DISCLOSURE FOR MORE INFO.
This article will give you a FREE step-by-step resort tour for Christmas at Disney.
Trust me you can do this!
Holiday resort hopping at Walt Disney World may also become your own tradition too.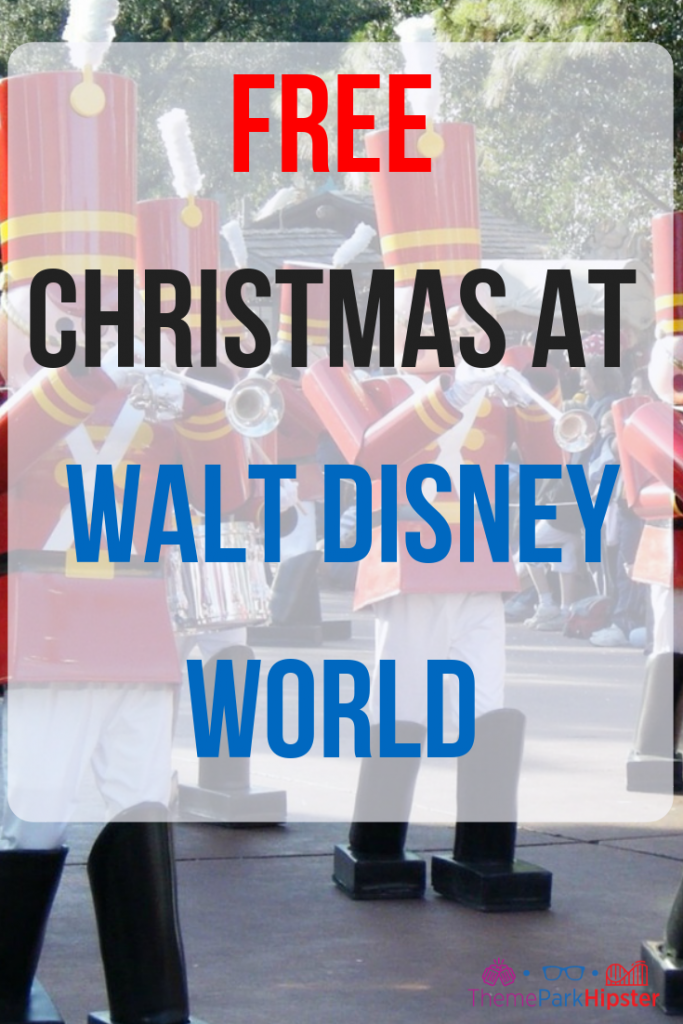 Perfect Holiday Resort Route at Walt Disney World
Before you start your festive Disney World Christmas adventure, you'll want to prep with lots of water on hand, comfy shoes for walking, and patience as you use Disney's bus system.
Be sure to give yourself at least 4 hours for this tour if you truly want to explore all the holiday activities and decor at each Disney resort. So, if you're interested in doing your own free solo (or family) self-guided Disney Christmas resort tour, then here's my top recommended path.
1 – Disney Springs Christmas Decor
Start at Disney Springs. You can park your car there for free and roam around to check out their holiday décor and seasonal treats. Christmas at Disney Springs is a perfect way to kick start your free Disney holiday resort tour. The Disney Springs buses usually start running at 8:30 am.
While there, try a seasonal treat at one of the kiosks or one of the top restaurants. You will also be able to sit back and listen to holiday carols along the waterside promenade on certain days.
A Disney Springs must is to walk-through the majestic Christmas Tree Trail. Each Christmas tree is highly themed to a Disney fan favorite complete with music and snow!
You'll also want to participate in Stitch's Holiday Gift Hunt where you have to find all the items on Stitch's lost list.
No visit to Disney Springs during the holiday would be complete without seeing Santa Claus. He will be there ready to snap a photo with you!
2 – Animal Kingdom Lodge Resort Christmas Decor
Hop on the bus at Disney Springs and go to Animal Kingdom Lodge where you will get lost in the magical Christmas displays of the African-inspired resort. The views around Animal Kingdom Lodge are enough to make you have that teary-eyed Disney moment, but adding a Christmas touch to it makes the magic even more real.
The massive lobby will welcome you with an equally massive Christmas tree, standing tall and decorated to perfection!
Sit in the oversize chairs and enjoy the ambiance of Animal Kingdom Lodge.
3 – Fort Wilderness Campgrounds Christmas Decor
Take the bus over to Fort Wilderness Camp Grounds for yesterland-inspired adornments. This resort is perfect for anyone who enjoys the outdoors, Disney, and Christmas!
The Fort Wilderness Campgrounds not only have log cabins available for rent, they also allow RVs to station there, which is where you will see some of the most creative holiday decor on the grounds.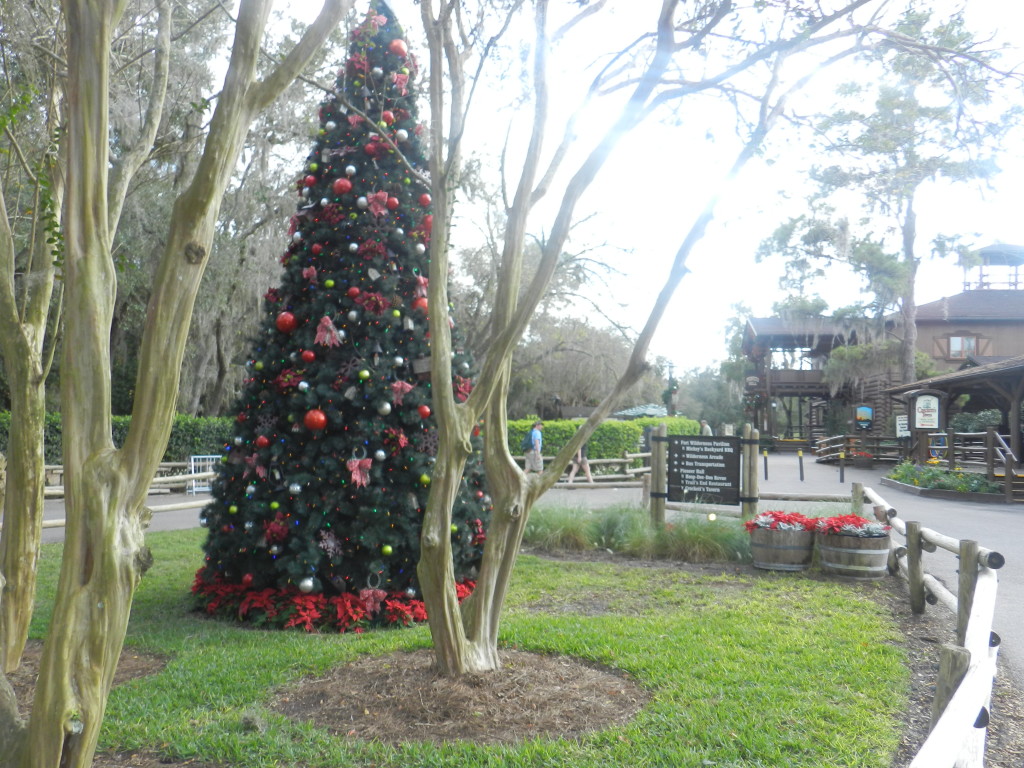 Fort Wilderness also has pathways lined with holiday garland and lights with a Christmas tree near the heart of the campgrounds.
4 – Disney's Fort Wilderness Resort Lodge at Christmastime
After leaving the campgrounds, take the boat and cruise over to Disney's Wilderness Lodge Resort. This is my absolute favorite Disney resort on the holiday resort hopping route. The lobby gives a similar invite as the one in Animal Kingdom Lodge, but Fort Wilderness Resort Lodge just feels like Christmas is supposed to happen there.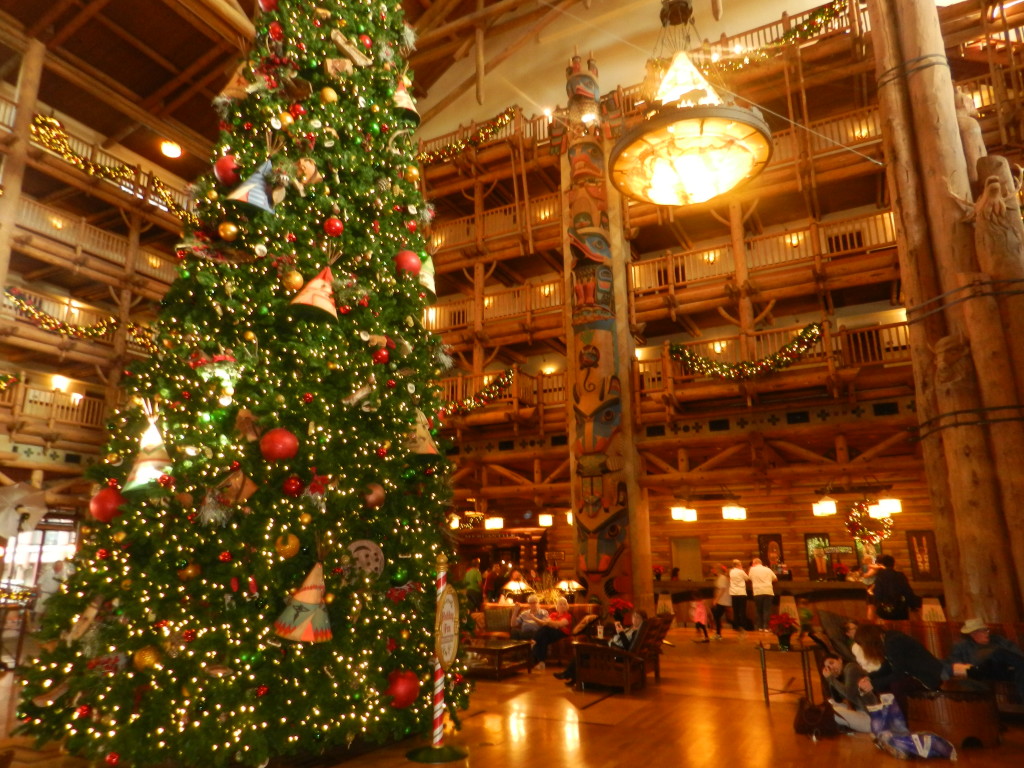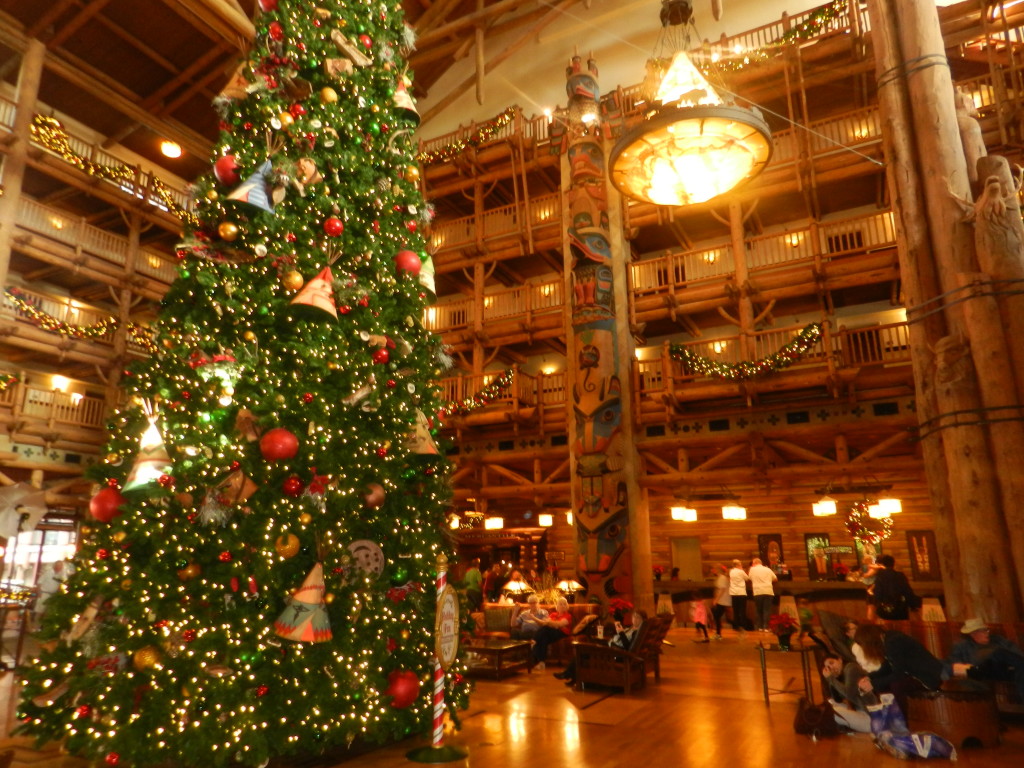 You'll also be welcomed to oversize rocking chairs with multiple fireplaces to feel as if you're having a winter fest in the deep woods of Northwest America.
The Christmas tree inside Fort Wilderness Lodge is best Disney resort Christmas tree.
The detailed ornaments of the animals and the perfectly hung lighting, are all factors that make this my favorite resort to spend the most time in while on my Disney holiday resort tour.
5 – Contemporary Resort Christmas Decor
Hop on the boat again and ride from Wilderness Lodge to the Magic Kingdom gate area and board the monorail to go to the Contemporary Resort. You will see lots of  Mary Blair inspired gingerbread creations each year inside the Contemporary Resort. Be sure to pick up a few holiday cupcakes and other treats inside the Contempo Cafe.
The show stopper is the large and splendid holiday tree outside the resort that greets you from the front of the property (if you were driving onto the property of the Contemporary Resort you would see it).
6 – Polynesian Resort Christmas Decor
When leaving the Contemporary Resort, board the monorail once again and head over to the Polynesian Village Resort.  Here you will get a tropical style holiday feel.
Because of the tropical theme, you may not get the Christmas feel right away, like the Wilderness Lodge, but you'll definitely enjoy another rendition of the yuletide decor and traditions.
7 – Christmas at Disney's Grand Floridian Resort and Spa
Continue your journey from Disney's Polynesian Village Resort to the Grand Floridian Resort and Spa, which will be the next monorail stop.
The Grand Floridian will transport you back to the elegance of Victorian charm. The lobby is indeed grand and gorgeous.
Listen to the sounds of the band play classic Christmas tunes and take in the scent of fresh gingerbread from the life-size house made completely out of gingerbread, which takes many months to complete.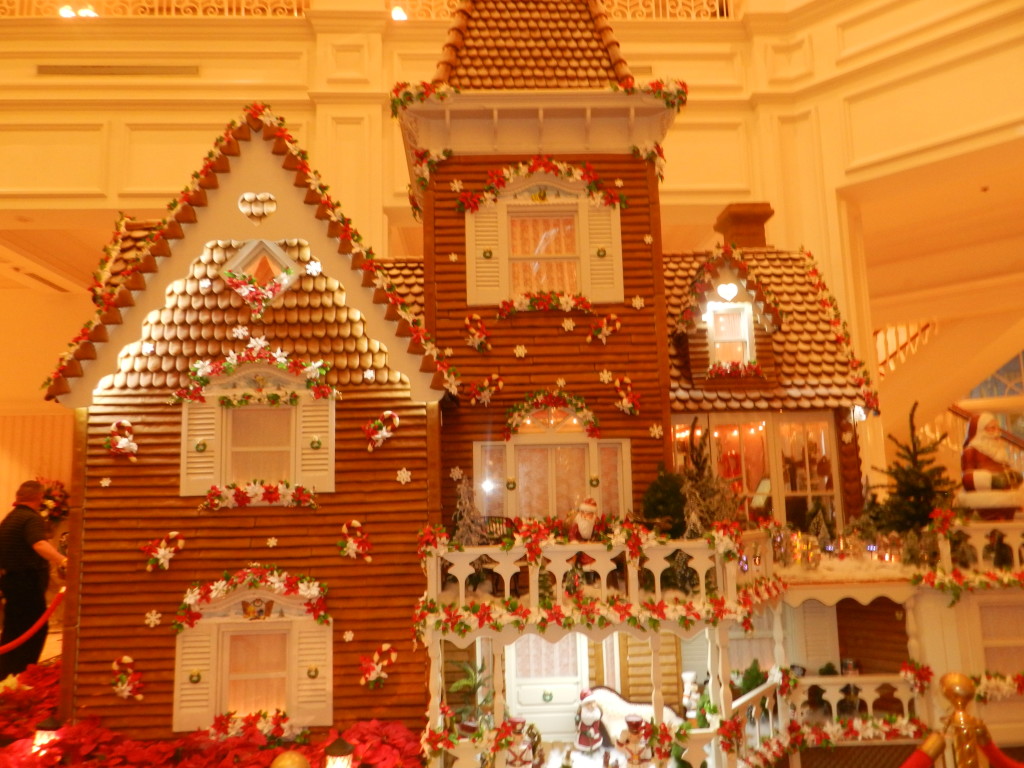 Don't forget to get a photo in front of the gigantic Christmas tree. It is the center piece of the Grand Floridian during the holidays and is a wonderful spot to hangout and enjoy the atmosphere.
This is the place to be and the epitome of your resort holiday tour.
8 – Epcot Resorts Christmas Decor
End your holiday adventure at the Epcot Resorts by taking the monorail from the Grand Floridian Resort and Spa to the Magic Kingdom transportation center, then hop on a bus to the BoardWalk Inn.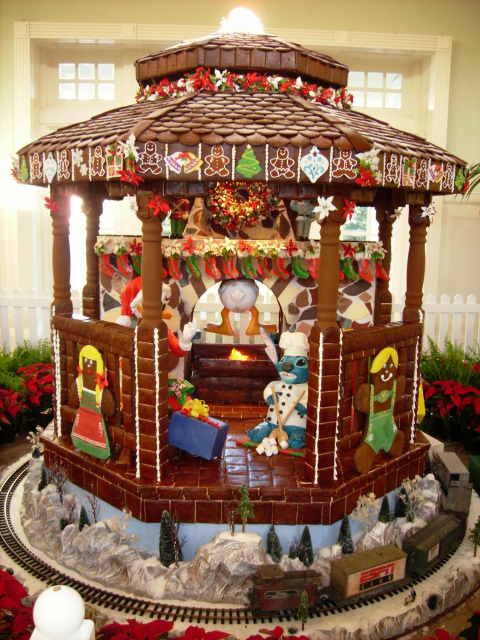 The BoardWalk Inn is a perfect way to end the night and you can also see the fireworks from both Epcot and Hollywood Studios while sitting outside.
You can also visit the other Epcot Resorts if you still have time in your day.
Once you're done, take the bus back to your car at Disney Springs and catch a special holiday show while you're there.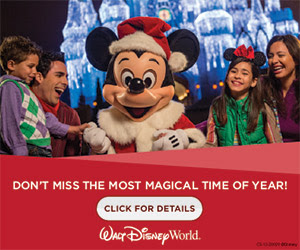 If you have park tickets or if you are a Disney Passholder, then add:
Visit to Main Street U.S.A. in the Magic Kingdom
Tour around Epcot World Showcase for Festival of the Holidays
Nightcap at Hollywood Studios
[alert alert_heading="REMEMBER" alert_text="In order to complete this perfect holiday hotel hopping schedule, you'll need to start first thing in the morning." alert_style="alert-info"/]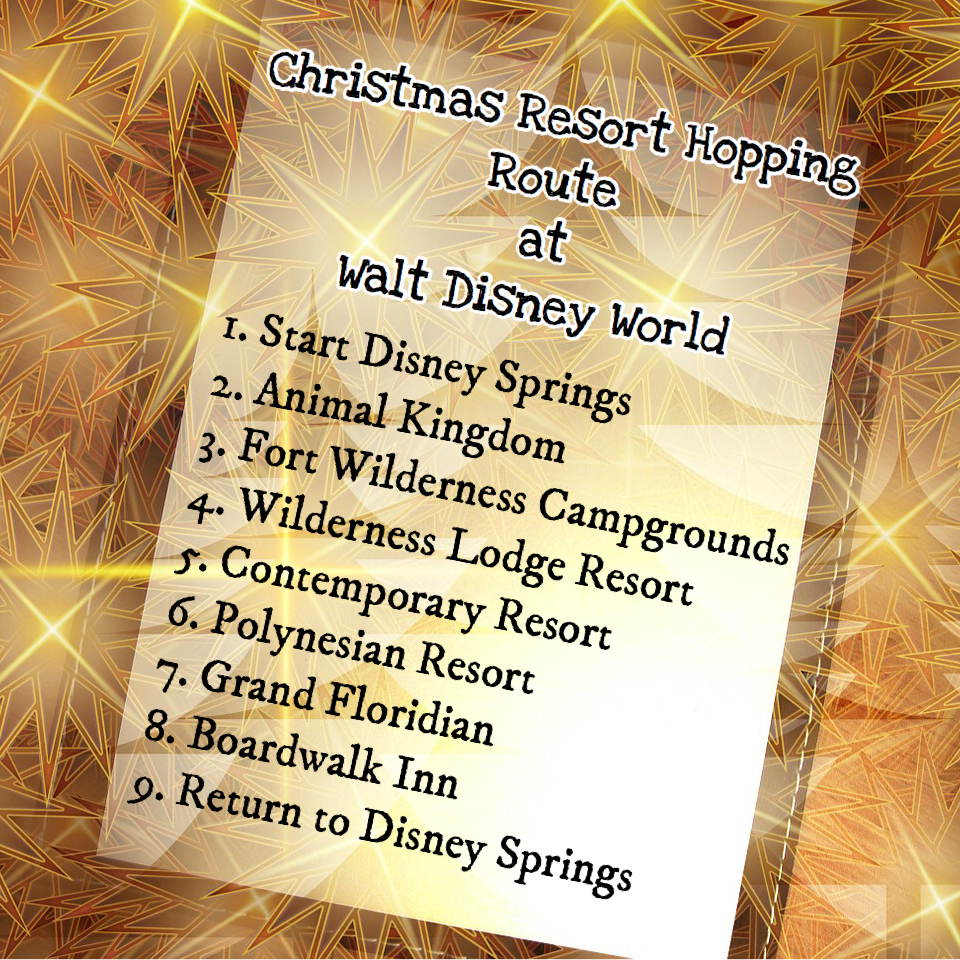 I hope this FREE step-by-step resort tour for Christmas at Disney helps you. Let me know what your favorite holiday route is at Walt Disney World for the holidays in the comment section below.
Until next time, Happy Park Hopping Hipsters!
NikkyJ