You've decided to brave the Florida heat and stand uncomfortably close to other Potterheads during the Diagon Alley grand opening celebration. Well don't worry about it. You are not alone. I will also be in the number plotting ways to get as close to the front of the line as I possibly can. The #Potterwatch phenomenon, which started back in 2010 with the Wizarding World of Harry Potter, is once again in full effect for Diagon Alley.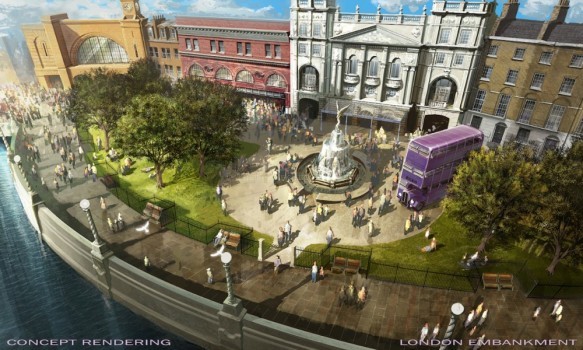 I'm pretty sure you've all seen pics floating around the internet of fans experiencing this adventure for the first. I've been adulting (as my friends would call it) for the past month, so I have not been able to release my ThemeParkHipster side as much as I'd like. However, that will all change on July 8th! Tomorrow will officially kick off my summertime ThemePark shenanigans just for you guys.
I'm here to quickly guide you on what to do, where to go, and what time to be at Universal for the historic day taking place tomorrow.
Here are the top 7 ways of preparing for the Diagon Alley Grand Opening:
Get there early– No I mean really get there early. Like an "I have a flight at 5 am and need to be at the airport by 330am early." It is rumored that Universal will not open the parking garage until 530 am tomorrow morning.
Prepare for an unheard of amount of people– Any new attraction that has a grand opening event at Universal usually brings in a huge crowd; however, anything Harry Potter related exponentially increases this to an unimaginable level. If you're a big fan of the JK Rowling series, then waiting in line with other diehard wizards and witches will make the time more of a magical undertaking instead of a dreadful task.
Bring lots of water! What more can I say? I'm trying to think of the best words to explain just how important it is to make this tip your number one priority. The heat and humidity that you experience in Florida is like no other state in America. Stay hydrated and splurge on one of those mist fans they sell in the parks to keep you cool. If you choose to wear your robes (no judging here), then try to wear some lighter clothing underneath.
Bring distractions– Don't forget to bring books, magazines, Cards against Muggles, iPhones, iPads, friends, or just conversation with fellow fans. You will be waiting in line for HOURS and you will want to surround yourself with fun and crazy people, I mean distractions, to keep you busy.
Don't forget the camera– This is a no brainer, but if possible I recommend that you bring your "real" camera to capture this once in a lifetime event. A cell phone is good, especially if it has good picture taking quality, but I still recommend one with great zoom capabilities and high resolution.
Prepare to wait– There's absolutely no getting around the extremely long wait in the queues for almost every attraction and shop in Diagon Alley. As mentioned before, there will be record-breaking crowds for this event on Tuesday and it will probably be that way until early September. Remember to be patient and try to savor each moment of the event.
Have fun! This event will be all what you make it. Universal Studios is known for pulling out pretty amazing surprises during grand opening celebrations. Yes it will be hot, yes it will be muggy, and yes you may be so close to strangers that it makes you second guess your decision, but in the end you will have made wonderful memories!
There's really no set guideline to preparing for a grand opening as massive as anything related to the Harry Potter series. However, there are ways of enjoying yourself no matter what the situation may bring.
I hope you Hipsters enjoy yourselves on July 8th! Don't forget that this event will take place at Universal Studios.
For more information about the Diagon Alley grand opening event, be sure to visit the Orlando Informer for the latest forum discussion.
NikkyJ