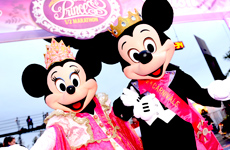 The single largest Run Disney Girl Power (Disney Princess Half Marathon weekend) event details have been released for 2015, which draws over 50,000 runners every year!
Are you joining thousands of princesses as they trade in their glass slippers for running shoes in a dream come true weekend? The annual Princess Half Marathon opened on July 15th for registration with the coveted Glass Slipper Challenge selling out in 2 hours. At the time of this writing 3 of the 4 events have sold out, with the all new Frozen inspired 5k sitting at 75%. This is an awesome event for all princesses, their princes and family. If you plan on running in one of the magical events that weekend, or are heading over to support the runners we have a VIP deal for you.
A Very Important Princess deal, that is.
Destinations in Florida are offering a royal discount for any VIP that wants to join for that weekend. There are 3 different resorts to choose from and even discounted park tickets available. Destinations in Florida are also working on creating meet ups for the VIPS to hang out and support each other, some contests for the weekend, and a few other things to be shared later.
The weekend long event, running February 19th-22nd, allows for 3 runs, 4 medals, and lots of magical good times. Kids are also eligible for their own medal after they compete in a number of different events.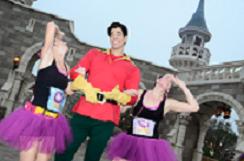 Weekend Events Include:
Disney Princess Half Marathon – A 13.1 mile course to celebrate your inner princess
Disney Enchanted 10k – 6.2 miles through Epcot for an truly Enchanted run
Glass Slipper Challenge – Test yourself in this endurance run of 19.3 miles over two days
Coast to Coast Medal – Earn a special edition of the Coast to Coast medal
Disney Princess 5k – A royal run with an opportunity for everyone to share in the magic
runDisney Kids Races – Kids 13 and under get treated like royalty in their own special races  Dashes- 1 Mile Run
Race Expo – A one – stop shop for all your racing needs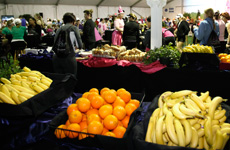 Pasta in the Park Party – A buffet dinner fit for every princess (and prince) to get you started on your race weekend
$54 for Adults (ages 10 and up)
$30 for Children (ages 3 – 9)
Children Under 3 are free
Get the best price on your Walt Disney World Vacation Package… Guaranteed!
Breakfast – Dine with the Princesses after the 5k to keep the fun going
$39 for Adults (ages 10 and up)
$26 for Children (ages 3 – 9)
Want to keep up with all the latest news, VIPS perks, training and discounts? Then join Destinations in Florida on Facebook.
There are also discounted rooms for the Tower of Terror 10 Miler, Wine and Dine Half Marathon Weekend, Walt Disney World Marathon, and the Star Wars Half Marathon Weekend
Email Laura today and you will be added to the Very Important Princess list. If you are VIP all it takes is the dates you are wanting, number of people in each room, and how many rooms and you will automatically receive a quote.  These prices will be the LOWEST Disney offers on room/ticket packages and will not last long. Once you book with Laura, you are done ! All you have to do is train, cross the finish line, and have a Royally Good Time !