Halloween Horror Nights Survival Guide and Tips!
You poor unfortunate souls. Do you dare to venture out to this year's Halloween Horror Nights? If so, you are in for more than ghostly encounters. The 2018 Halloween Horror Night event will take place from September 13th until November 3rd at Universal Studios Florida.
This year Universal will have a record number of haunted mazes, ten to be exact!
According to Universal,
This year, time twists and turns on itself–ripping cinematic greats, cult classics and even original nightmares from decades past into a new era of fear with more terrifying haunted houses than ever, sinister scare zones and outrageous entertainment.
Halloween Horror Nights 2018 Dates
September: 14-16, 19-23, 26, 28-30
October: 3-7, 10-14, 17-21, 24-28, 31
November: 1-3
2018 Halloween Horror Nights Houses and Scare Zones
Ten 2018 HHN Houses
Carnival Graveyard – Rust in Pieces: Dive into the deep secrets of past carnival pieces that have come to rot and die. Hopefully, you won't be next.
Dead Exposure – Patient Zero: You will get lost as the undead hunts you…
Halloween 4 – The Return of Michael Myers: Take a deadly trip into this classic film.
Poltergeist : A house based on the 1982 movie.
ScaryTales – Deadly Ever After: The Wicked Witch of the West brings fairy tales to life in a distorted way.
Seeds of Extinction: Alien plants come to take of this world.
Slaughter Sinema: Sets of the typical '80s B movie.
Stranger Things: Walkthrough and experience the phenomenal Netflix series.
The Horrors of Blumhouse: Combination of scenes from the Blumhouse horror films such as: The First Purge and Happy Death Day.
Trick 'r Treat: Maze based on the 2017 Halloween Horror Nights scarezone and the film, Trick 'r Treat.
2018 Halloween Horror Nights Scarezones
Killer Klowns from Outer Space
Revenge of Chucky
The Harvest
Twisted Tradition
Vamp '85: New Year's Eve
If you're brave enough to handle the number one horror event in the world, then I've gathered the best tips to help you survive Halloween Horror Nights (HHN).
13 Killer Halloween Horror Nights Tips | Episode 30
24 Halloween Horror Night Tips for 2018
1 – Get to Halloween Horror Nights early
I cannot express this enough. Unless you're spending your cell phone money on an Express Pass, I would suggest you get to Universal Studios at least an hour early before the start of the event. If you're lucky enough, you may be able to get into the park early and knock out two to three houses within one hour.
Halloween Horror Nights officially begins every night at 6:30 p.m. You are allowed to remain in one of the Stay & Scream spots:
Springfield area
New York in Finnegan's Bar area
Hollywood near Hello Kitty store area
THIS POST MAY CONTAIN AFFILIATE LINKS. PLEASE READ MY DISCLOSURE FOR MORE INFO.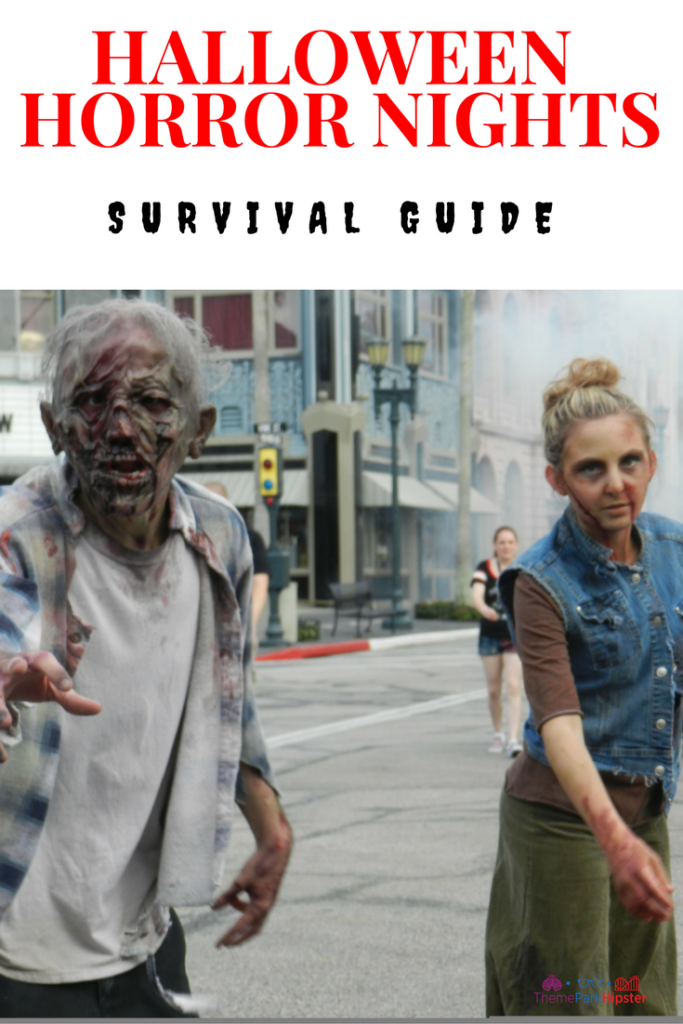 2 – The more the merrier
Going to HHN as a group increases the excitement of the night, but going with your significant other is the best fun.
3 – Are kids allowed at Halloween Horror Nights?
Per Universal, this event may be too intense for young children. Adult discretion is strongly advised. There are no child ticket prices available for this event.

4 – What to wear at Halloween Horror Nights
Style, Comfort, or Both???
I choose comfort over style, but I'm trying to get better at combining the two. What I do recommend is wearing comfortable sneakers for all of the standing, walking, and running you will be doing…. trust me, you will thank me later.
5 – Have a game plan
Route your path around the park in advance by retrieving the Halloween Horror Nights park map. Save the opportunity for riding the permanent attractions for another visit. You can also do them towards the end of the night once you have done the HHN mazes.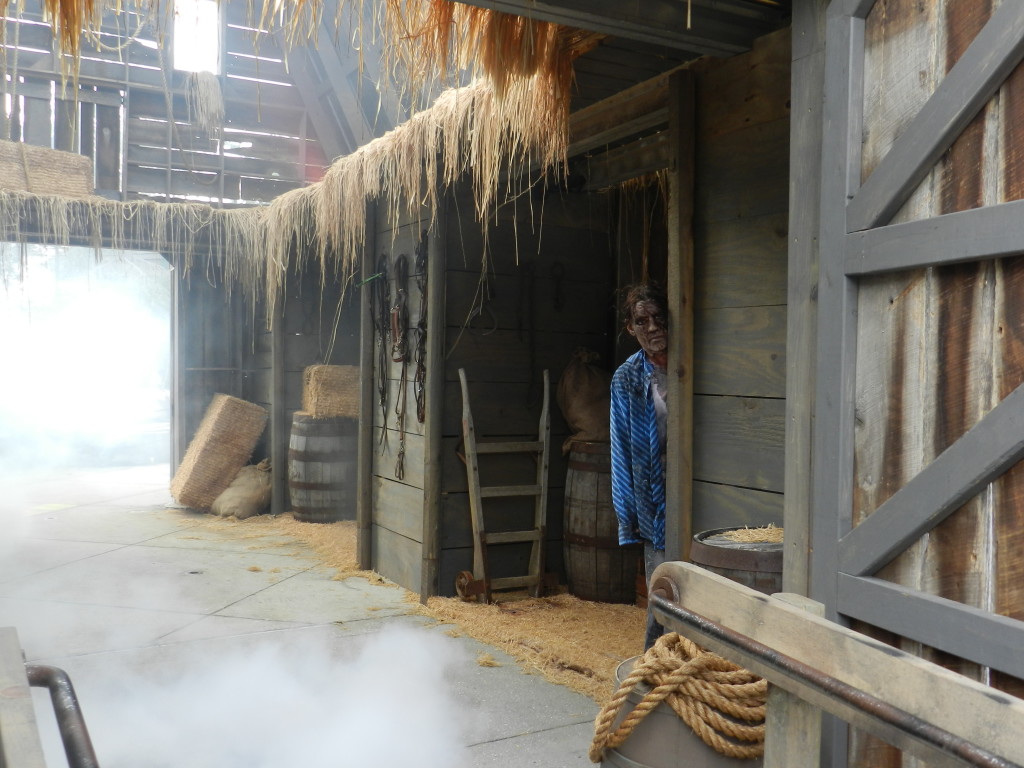 6 – Attend Halloween Horror Nights on off peak nights
Visit Universal HHN Sunday through Thursday to take advantage of the cheaper days (esp. for Florida residents or annual passholders) and the smaller crowd. Avoid weekends and holidays. These are the worst days to go because you will not be able to enjoy all the houses. You will also have to fight through extremely crowded nights.
[alert alert_heading="Hipster Power Tip: " alert_text="The best time to attend Halloween Horror Nights is during the first few opening weeks or last days of the event (excluding Halloween).This text area show all text….." alert_style="alert-warning"/]
7 – Purchase HHN tickets in advance
It's best to buy your tickets ahead of time. This prevents waiting in a line once you arrive at Halloween Horror Nights. The line to buy tickets can exceed the usual queue you may notice during regular theme park hours.
[alert alert_heading="Hipster Power Tip: " alert_text="You can purchase an add-on ticket at Universal Studios, which will allow you to stay for Halloween Horror Nights for $65-$83." alert_style="alert-warning"/]
8 – Buy the Frequent Fear Pass
If you plan on going many times, then this is the most cost-effective way of doing Halloween Horror Nights. This pass allows visits EVERY Sunday–Thursday of the event night. It also includes the first Friday and Saturday, plus the last Friday.
9 – Get HHN ticket from a trustworthy website
Buy your Universal Halloween Horror Nights ticket directly from Universal's website or from a reputable source such as Undercover Tourist. Undercover Tourist usually has special rates for Orlando theme park visitors.
Save on Halloween Horror Nights Flex Sunday-Friday Ticket! Valid for one event night Sunday through Friday.
10 – Is Halloween Horror Nights Express Pass worth it?
Absolutely!
Please buy an Express Pass.
Halloween Horror Nights is extremely popular, if not the most popular Halloween event in Central Florida. This popularity sometimes leads to wait times for haunted mazes exceeding three hours. In order for you to enjoy your evening at HHN, you may want to splurge on an express pass.  This will help you conquer each haunted house at Halloween Horror Nights.
Please note the express pass has a history of selling out on peak nights. Always check Universal's website and buy your ticket before your visit.
If you can splurge on an Express Pass, then get it! It will make your night much more enjoyable and it will also make your night feel less rushed.
Remember: Halloween Horror Nights Express Passes start at $80 per person.
If you want to avoid spending extra money on the express pass, then it's best to get to Halloween Horror Nights early (I know I'm repeating this tip…VERY IMPORTANT). The wait times are shorter (less than 30 minutes at the beginning of the event and also towards the end of the event).
11 – Press the special buttons in the haunted mazes
Whenever you're in a haunted house please note the red button. When you see one press it for a special surprise.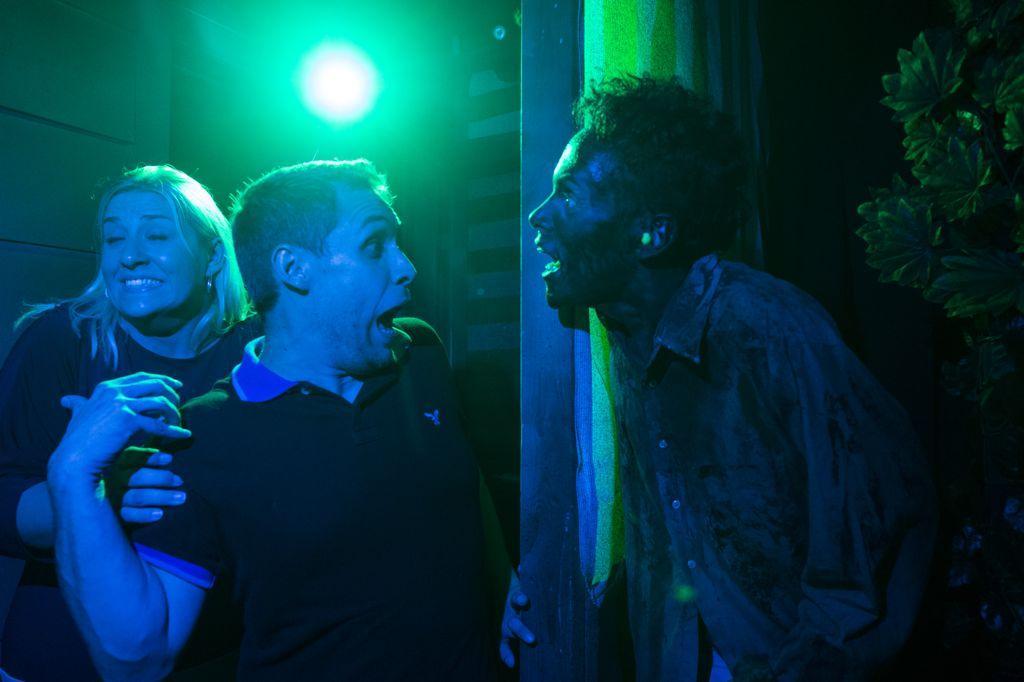 12 – Remember Halloween Horror Nights is extremely scary
It's recommended for ages 13 years or older. Just remember if the house is too intense for you, then you can leave by notifying a park team member. The Universal team member is usually located in a specific corner of a haunted attraction and may be dressed in all black regular clothes.
13 – Don't get drunk off the spirits
Alcoholic beverages are served at Universal Orlando's HHN. It's a nice treat to have in the face of the haunted scares, but remember to pace yourself and try not to get drunk.
[alert alert_heading="Remember:" alert_text="Local law enforcement patrols the event." alert_style="alert-warning"/]
Remember you can save money by pregaming in CityWalk during happy hour.
14 – Buy a unique Halloween Horror Nights experience
Try out the Unmasking the Horror Tour where you'll have a daytime, lights-on, chilling look into how Universal Orlando's Art & Design team transforms the biggest names in horror into haunted houses. Also try the R.I.P. Tour which is your own VIP tour around Halloween Horror Nights in a one-on-one guided tour with a team member.
15 – Purchase a unique HHN activity
Enjoy a special activity such as getting a henna tattoo, doing a scareactor dining experience, or getting your face painted.
16 – Stay hydrated
HHN requires A LOT of walking and sweating! Something Floridians are used to, but not a common thing for out of towners. Plan to drink a few ounces of water every hour while at Halloween Horror Nights.
17 – Watch Halloween Horror Nights vlogs
Our First Look At HHN 2017 At Universal Studios Orlando | All The Halloween Fun & Frights!
View vlogs such as the Tim Tracker or the Geek Glass Daily Vlog to help get you excited for HHN. Personal vlogs will show you some of the things to expect and will let you know the intensity of the event. The vlogs also show different ways people enjoy HHN.
#glassgeekdailyvlog RIP at hhn27 short version part one
18 – Don't forget your wallet
Remember to bring your wallet, your tickets, and your ID.
19 – Budget for Halloween Horror Nights
This is not a cheap event to attend unless you have a hook up of someway or you are a Platinum Passholder. You have to take into account parking fees, food, drinks, and any other special experiences that you may want to do on top of the ticket price.
20 – Monitor the weather
The weather in Florida from September to early November can range from extremely hot and humid to rainy and sometimes (very rare) cool October days. Always check the weather to know what to expect. The weather will make or break your trip, especially if it's scorching or if there's a rainstorm.
21 – Costumes are not allowed at Halloween Horror Nights
Remember costumes are not permitted at Universal's Halloween Horror Nights. This rule is mostly for the safety of both team members and guests.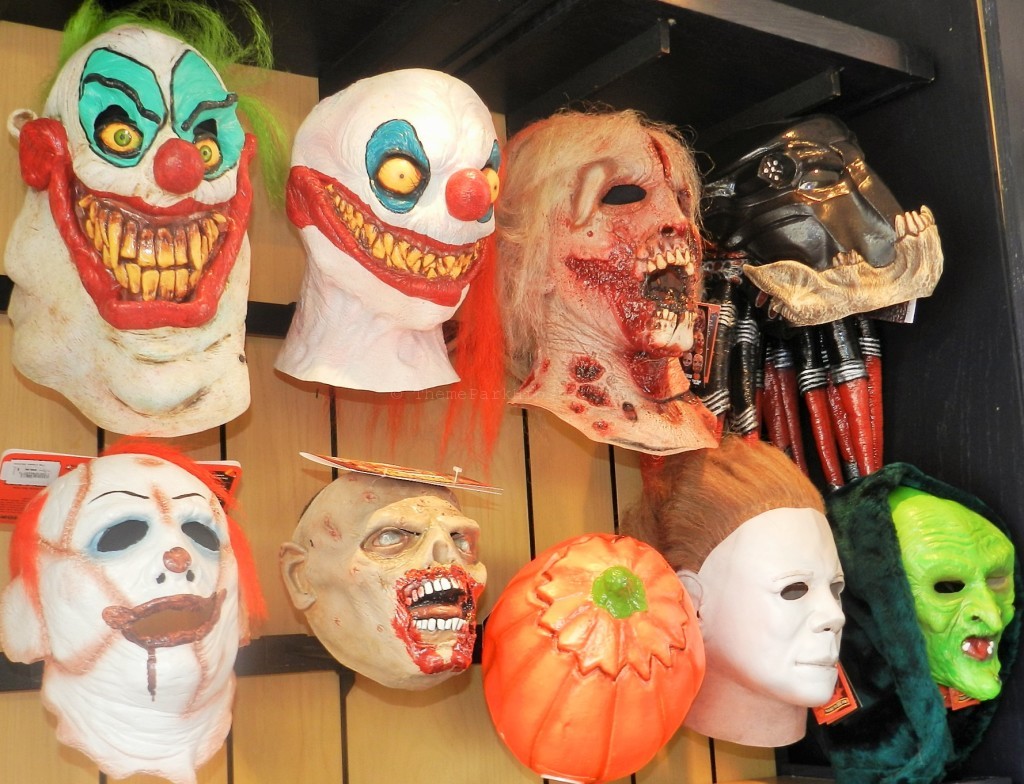 22 – Dine before Halloween Horror Nights
Grab a bite at CityWalk, at an offsite restaurant, or possibly inside Universal. If you eat in Universal Studios prior to event, then you will be placed in a holding area. The holding areas vary, so always check prior to your visit.
Passholders remember there are days, usually the first two weekends, you can go into the park early. You will be able to experience between 2 to 3 houses knocking them out quickly. This treat can eliminate the need to buy an express pass.
23 – Be mindful of Universal Orlando Resort security
Security at Universal Orlando is very tight and it is stricter during Halloween Horror Nights. Don't let that discourage your evening at HHN. Have a blast, be safe, and don't try anything stupid.
24 – Have fun!
You're really going to have a great time, so try not to stress too much and enjoy the delightfully, ghoulish frights of Universal's Halloween Horror Nights!
I hope this Halloween Horror Nights Survival Guide helped you prepare for this year's event. Remember that it is one of ThemeParkHipster's favorite fall Florida event.
Be sure to leave your own stories and comments below and let me know some of your favorite tips when going to HHN. Also let me know what your favorite Halloween Horror Nights maze and scarezone is of all time.
ThemeParkHipster Book Recommendation

Send me a picture of your experiences. You can do this by tagging me on Twitter or Instagram!
For more information on the houses, shows, pricing, policies, and times please visit the official Halloween Horror Nights website.
Until next time, Happy Park Hopping Hipsters!
NikkyJ