Cedar Point, also known to theme park enthusiasts as the Holy Grail of Amusement Parks, the ultimate thrill seeker's paradise, and literally the World's Best Amusement Park!
I was able to complete this theme park bucket list item, along with OutDoorsy Diva, this past Fall. It surpassed my expectations of just how innovative the engineers are when it comes to the latest thrill ride technology. I was extremely siked about conquering each thrilling adventure Cedar Point had to offer.
So it is with great pleasure that I offer you all a few tips and tricks on how to make the most out of your first time trip to Cedar Point.
I arrived in Sandusky, Ohio on a brisk autumn morning with one goal in mind…to CONQUER as many electrifying rides and attractions as possible! After all, I needed to experience all Cedar Point had to offer in order to give you Hipsters a wonderful reason to visit this astounding park.
THIS POST MAY CONTAIN AFFILIATE LINKS. PLEASE READ MY DISCLOSURE FOR MORE INFO.
It's a phenomenal place for not only beginner amusement park goers, but also for park veterans old and young. There are museums in the park, beach activities, and a water park too!
There is definitely something for everyone here.
Now let's get to the good stuff…
Here are the 11 First Timer Tips for Cedar Point!
1 – Research
As with any great park trip, research on the latest attractions, shows, events, and policy updates are a great way to know how to tackle your trip. Research at such an epic amusement park such as Cedar Point lets you know how to map out and plan your day. It also gives you insight on park traditions, history, and possible secret activities to enjoy that may not be known to everyone.
2 – Plan 
This is one of the top tips for anyone going to Cedar Point. The park is 364 acres with more than 150 rides, shows, and attractions. You may not be able to see it all, but getting a game plan together will make your trip much more enjoyable. Plans such as, where to start in the park, which rides to attack first, and what time you should try to get there are just a few examples on what to think about.
You should also list out which rides are the most important and start there.
Be sure to print out the map from the official website to know which path to take around the park in order to maximize your day.
Cedar Point Map
3 – Start Early
This tip is especially important if you will be at Cedar Point for only one day. Starting early goes for any major theme park or event in the world. An early start not only allows you to be able to fully enjoy the park, it will allow you to feel less pressure and you will be able to jump quickly between each attraction.
[clickToTweet tweet="Nothing's worse than finally be able to go to the most amazing amusement park in the world and feeling rushed and disappointed." quote="Nothing's worse than finally be able to go to the most amazing amusement park in the world and feeling rushed and disappointed." theme="style3″]
That's why planning out your day and starting early can help ease any unwanted incidents that may occur.
Hipster Power Tip: You will get to enter the park early by either staying at one of Cedar Point's hotels or purchasing a Platinum Pass.
Save $25 off Adult single day gate admission to Knott's Berry Farm!
4 – Purchase Tickets Online 
There are special perks to purchasing tickets online. For one, you will be able to skip the long, drawn out ticket queue and head right away into the gates for your pretty wild experience. Secondly, Cedar Point offers many discounts for advance ticket purchasers.
Tickets for the 2019 season are now available for prices as low as $49 for a single day ticket (prices subject to change).
5 – Go in the Fall
Most theme park enthusiasts know how obsessive we can be about park hopping in the colorful fall season. Not only is the weather perfectly enjoyable across the United States, the season also brings about low crowds.
During my visit to Cedar Point I was lucky enough to attend an awesome Bloggers Con at that perfect time of the year. The energy all around the park was magical and the breeze from Lake Erie gave a refreshingly, chilly perk while atop Cedar Point's sky high thrills.
6 – Take a Break at Hotel Breakers or the Beach 
One thing I liked about the Cedar Point property was the variety of restaurants and scenic rest stops in and outside of the park. You will find many popular franchises such as Famous Dave's, TGI Fridays, Chick-fil-A, and many more!
The coolest thing is the ability to grab your lunch and head out to the majestic shore of Lake Erie where you can spend your park break relaxing next to one of America's most naturally beautiful lakes. It gives you a stunning front view of the great lake in addition to an equally incredible view of the park's skyline.
7 – Dress for the Season
Whether you plan on going in the summertime or the fall portion of the park season, it is important for you to dress comfortably for either one. During the hotter months, light clothing with comfortable shoes, sunglasses and a hat is recommended to battle the bright sunshine.
In the cooler months, jeans with a light sweater or jacket will do just fine in the battle between you and the chilly Lake Erie winds.
8 – Ride it Out!
Cedar Point offers some of the world's most innovative roller coasters. If you make this thrilling journey to Sandusky, Ohio, then you must go for the big ones!
Make it somewhat of a day to knockout your daredevil bucket list items. It will definitely add some color to an already sensational day.
If you can only choose one coaster to feel as if you're not a "roller coaster chicken," then I recommend making Millenium Force your ultimate goal for the day.
I was at Cedar Point for an entire weekend; however, it wasn't until the very last day that I finally mustered up a bit of courage and finally conquered it!
I really had to talk myself into it.
I'm not much of a thrill rider any more (more of a theme park cocktail drinker and people watcher now), but I couldn't fly all the way from Florida and not do it.
I had to be daring and you should too!
9 – Purchase Fast Lane Pass 
I recommend this park feature if you have the extra money and if you are a true coaster fanboy or fangirl. It will definitely help you get the most out of your day giving you ample time to enjoy Cedar Point in a magnificent way.
The Fast Lane Pass works by allowing you to bypass the regular lines on more than 20 rides and attractions including Millennium Force, Raptor, and more! It is only valid for the purchased day of admission.
Hipster Power Tip:
There are four rides that the regular Fast Lane does not cover are:
Gatekeeper
Valravn
Maverick
Steel Vengeance
Top Thrill Dragster
If it's a really busy day, then you will want to buy the Fast Lane Plus.
Save $20 on a 3 Day Los Angeles GoCard and visit 30+ attractions, including Universal Studios Hollywood!
10 – Use Side or Back Entrances
A cool tip I learned during my first visit was the ability to use the side entrances when entering the park. The mentioned entrances will help you avoid the front gate rush and will you the ability to enter right next to the attractions you want to ride first.
The western entrance will get you the closest to Millennium Force, the second most popular ride at Cedar Point.
11 – Ride Maverick at Night
I must say that this is an absolute must do!
If you're a roller coaster fanatic, then you must saddle up and ride crazily through the night on this wild adventure. The Maverick will take you through a "twisted horseshoe roll" and a 400-foot-long speed launch through a pitch black tunnel at a top speed of 70 mph!
Maverick AWESOME Roller Coaster Front Seat POV 1080p HD Cedar Point Ohio
---
Cedar Point Roller Coasters Ranked From Best to Worst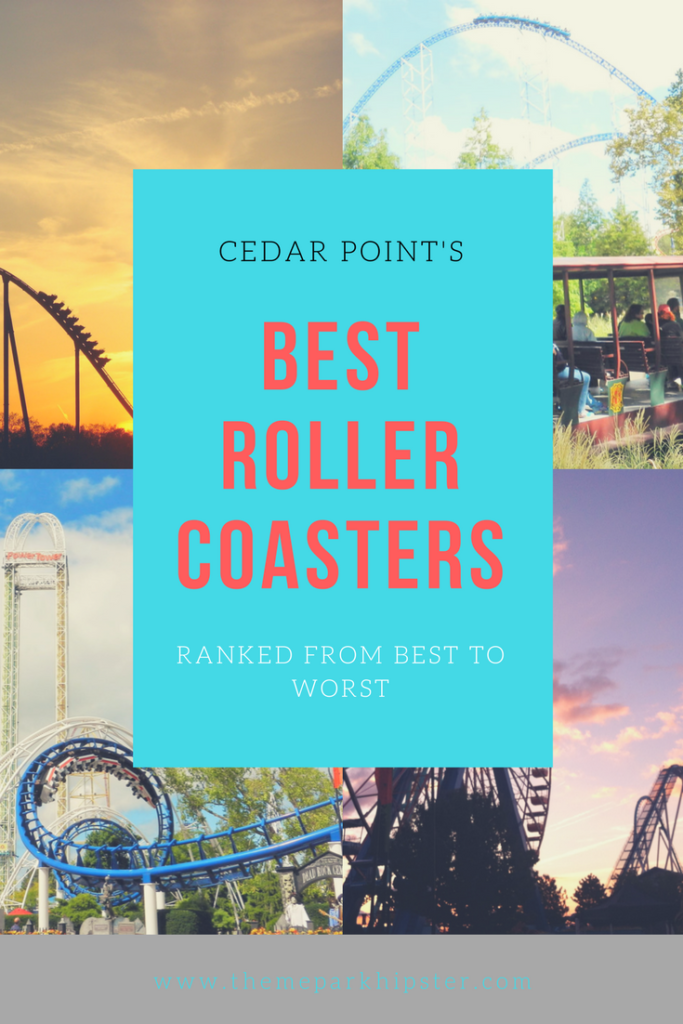 Watch my Latest Cedar Point Vlog
Cedar Point Solo Trip | Sights and Sounds Walk Through
If you're thinking about visiting Cedar Point during the 2019 season, then hit me up with a comment below. I'd love to answer any questions you all may have. If you have any tips please write them below.
Cedar Point Update! A new ride will open this season call Steel Vengeance. This Wild West thrill comes action-packed with a height of 205 feet above the prairie, a 90-degree initial drop down to the earth, almost 30 seconds of airtime (the most on any roller coaster on Earth), 4 head-over-boots inversions, ricocheting movements left-to-right, up-to-down and side to side
Cedar Point will kick off this season on May 11th 2019.
Until next time, Happy Park Hopping Hipsters!
NikkyJ
Check out more photos from Cedar Point!
Want more theme park tips? Check out the theme park tips page. If you're thinking about going to a theme park alone, then read the top 18 tips. Are you planning a Disney vacation soon? Read the Disney Vacation Planning Guide for your next dream trip!
Don't forget to discover the new magical and mysterious Disney adventure of Pandora – The World of Avatar at Animal Kingdom® Theme Park.
Check out the articles below for more theme park guides.
Updated November 2019