Theme park hopping alone?
What?!?
You're probably thinking that there's a misprint on the title of this article. There are so many tips and tricks on the web about globetrotting alone, but hardly anything to guide someone interested in going to a theme park unaccompanied.
THIS POST MAY CONTAIN AFFILIATE LINKS. PLEASE READ MY DISCLOSURE FOR MORE INFO.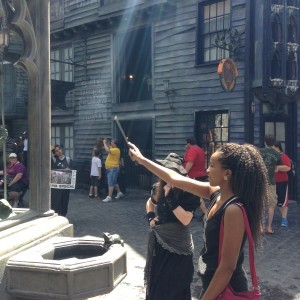 You guys know me as the ThemeParkHipster and many of my virtual tales are written based on my solo excursions.  I personally travel alone because it is hard to find people who love theme parks as much as I do.
I've learned that many individuals find this concept of traveling to parks such as the Magic Kingdom or Busch Gardens alone to be sort of taboo.
Some wonder what others will think of them, but most don't understand why anyone would want to do it.
Solo theme park hopping is sometimes compared with people who also enjoy a dining experience or who may go to a movie theater alone.
Neither is common, but both appear weird and unusual to an outsider.
For you guys, I now have The Solo Theme Park Traveler's Guide for theme park hopping alone. A quick handbook I wanted to share with you all. In celebration of the release, I put together this post of tips for enjoying a solo theme park trip.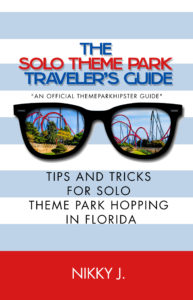 What are the advantages for going solo to a theme park?
Freedom.
There's an incredible sense of independence when you're exploring the parks by yourself.  You can watch Belle and all of her magical friends perform on stage at Hollywood Studios without anyone mocking you about your choice in entertainment.
Better Problem Solver.
With the solo experience you gain the advantage of becoming a better problem solver.  Because it's just you on this vacation path, you will have to come up with plan A, plan B, and plan C for some of the theme park events.
When you're with a group of people you may have many different opinions or solutions to problems that arise; however, when it's just you, you become the sole problem solver.
Opportunity to Reflect and Grow.
Time alone allows for more opportunities of reflection. A time to meditate on life's moments that led to this voyage and a time to see how you'll continue to appreciate your existence beyond this trip.  I can think of no better therapy than to have a charming palace or a terrifyingly, thrilling roller coaster around you.
Meet Incredible Solo Theme Park Hipsters
Since traveling to the parks alone I've noticed that I've become more confident in introducing myself to new people.  It gives me a chance to truly be myself, since I am in my zone. You may notice when you're with your friends you're more involved in the conversation, but when you're alone you're pleasantly nudged to spark up a conversation with someone waiting in an attraction line with you.
I love visiting theme parks alone sometimes because I'm not restricted to sticking to a schedule or feeling obligated to see or do anything in particular. I love the freedom to wander at my own pace.

Lauren, Outdoorsy Diva
I encourage you to look beyond the naysayers and try this life changing form of travel. The best thing about traveling solo is the limitless opportunities to do anything imaginable, within legal bounds of course.
You can make it a foodie tour day, a day of watching shows, or maybe a day of riding all of the thrill rides.
Theme Parks Alone Episode 1: Have you ever been to a theme park alone?
This is the first of many posts to come in helping you have your own solo theme park trip.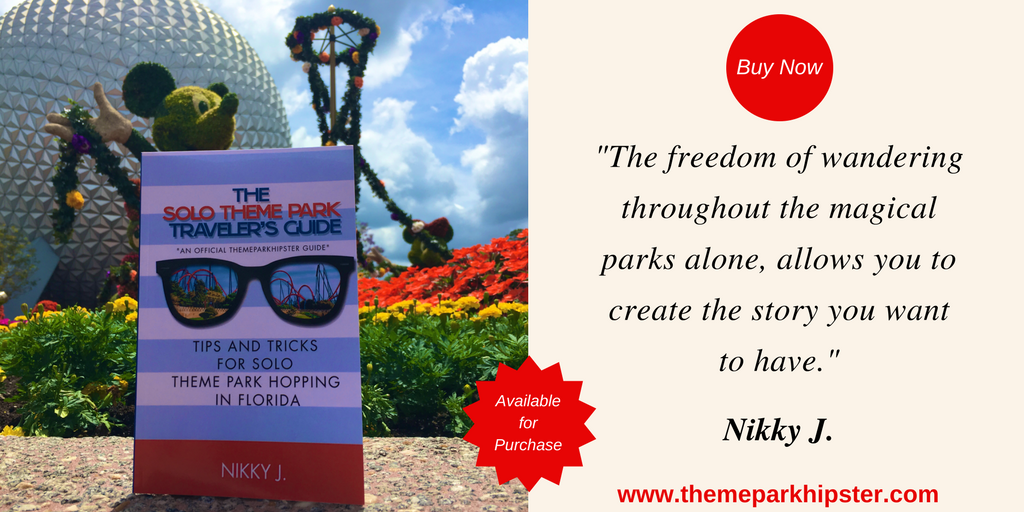 Until next time, Happy Park Hopping Hipsters!
NikkyJ