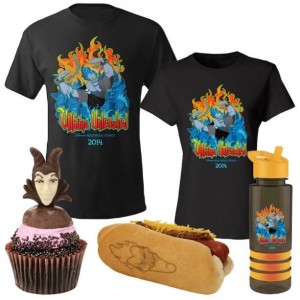 This week, Disney announced an assortment of event logo merchandise and creative food and beverage to be offered during the Disney Villains Unleashed celebration! Offerings including Disney villain-themed hot dogs and the Maleficent cupcake sounds amazing – dark chocolate cake filled with a decadent blackberry filling topped with smooth blackberry buttercream. At Club Evil in The Hollywood Brown Derby, the Disney chefs will offer an assortment of small plate menu items. These "Villanishious" items include things like "Cruellas Devious Eyes" – fresh mozzarella with ugly ripe tomato spheres, balsamic gelée and basil oil powder – or "The Queen of Hearts famous 'Off with their heads'"!, which is deviled eggs, pig crackling and a garlic chili gelée and lobster custard with Tobiko caviar and citrus oil.
Guest should also look for specialty cocktails at Club Evil and at select bar locations throughout the party. There will also be non-alcoholic option called "Pain and Panic Punch," which is apple juice, Monin pomegranate, Monin vanilla topped with soda water.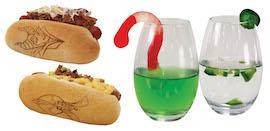 This brand new special event will take place at Disney's Hollywood Studios on Aug 23, 2014 8pm -1am. Beware the power of evil as many of your favorite Disney villains run wild in Disney's Hollywood Studios for a special after-hours night of mischief and mayhem capped off with a wicked fireworks spectacular! Tickets are on sale now, $67 (adults) and $62 (ages 3-9) + tax. Previously, Disney Parks Blog announced a partial list of the villains who will be in attendance, which included several rare characters like Hades, J. Worthington Foulfellow, Gideon, Big Bad Wolf and Star Wars villains like Boba Fett, Asajj Ventress and Emperor Palpatine!
Don't forget to book your next Disney vacation with Laura at Destinations in Florida!