Are you planning on making a trip to the Wizarding World of Harry Potter soon? If so, you should know the best ways to experience The Boy Who Lived and all his wizarding friends. Universal Orlando Creative has done a spectacular job of bringing the novels of JK Rowling to life.
I've put together a list of 7 ways to enjoy the Wizarding World of Harry Potter Hogsmeade. These tips can be useful in your solo trip or a trip with friends and family.
THIS POST MAY CONTAIN AFFILIATE LINKS. PLEASE READ MY DISCLOSURE FOR MORE INFO.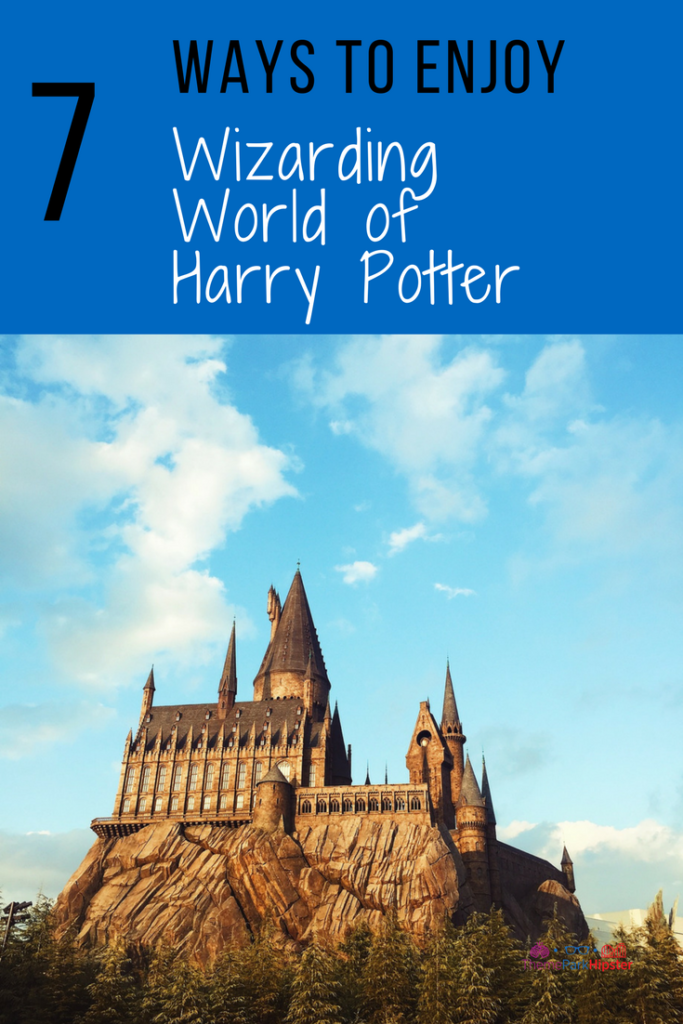 Plan your day
Any vacation goes much smoother when it's planned out…especially if it's for a Florida theme park. The only way to survive the Wizarding World of Harry Potter is the come up with the perfect game plan.
Save $53 on Universal 3-Park 2-Day Park to Park and get an extra day! Visit Universal's Volcano Bay Water Theme Park.
For example, going during the weekday instead of the weekend can make a difference in having to deal with a massive crowd or a quiet day. Staying onsite is another way to plan the perfect day by taking advantage of the Express Pass. The Express Pass allows you to skip the regular lines an unlimited number of times at participating rides and attractions each day that your pass is valid.
Watch the 7 Quick Tips for Wizarding World of Harry Potter Hogsmeade Below:
Wizarding World of Harry Potter Hogsmeade: 7 Quick Tips to Remember
Start early
I give this tip out a lot, but it's one of the most important if you want to maximize your time in Hogsmeade. If the park opens at 9 a.m., then try to be at the Islands of Adventure gate by 8:15 a.m. This may sound ridiculous, but arriving early will make your Hogsmeade experience much more magical and exciting!
It's also good to come back later in the evening and browse the various shops. The crowds are at a minimum allowing you can take your time while walking through Filch's Emporium, Dervish and Bangs, the Owl Post, and Ollivanders.
Go to the Hogwarts Castle and ride Forbidden Journey
Once arriving at Hogsmeade Village, quickly walk up to the legendary Hogwarts Express conductor for your magical picture then head back to the Forbidden Journey attraction.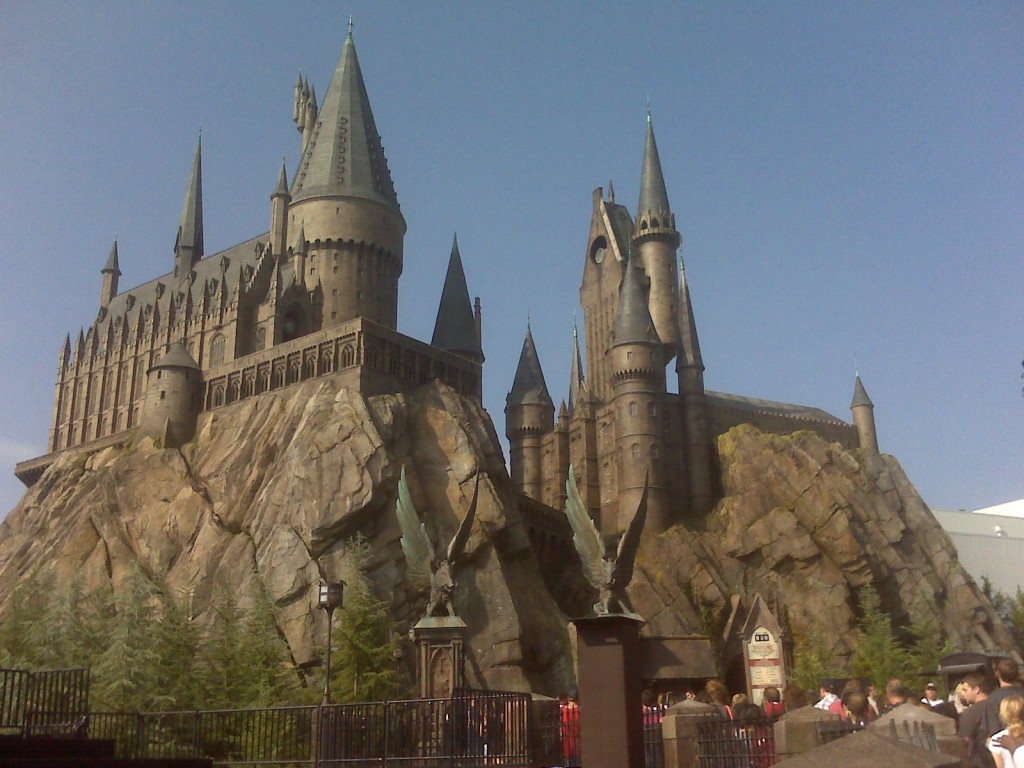 Forbidden Journey is located inside of the Hogwarts castle.
The wait time for this attraction is usually the longest in Islands of Adventure. For this reason, it is best to get there early and take advantage of the short line. If you are not into riding thrilling attractions, then you can walk through the highly themed queue and explore the castle.
Visit Ollivanders
This interactive wand experience is for both the young and old. We all have a child living inside us and Ollivander will make sure to unleash it when he gives a mystical presentation inside his shop.
My top tip for this experience is to stand in the front of the presentation. This will likely increase your chance of being chosen by Ollivander for a wand. You will also want to make this attraction number two on your list (after Forbidden Journey).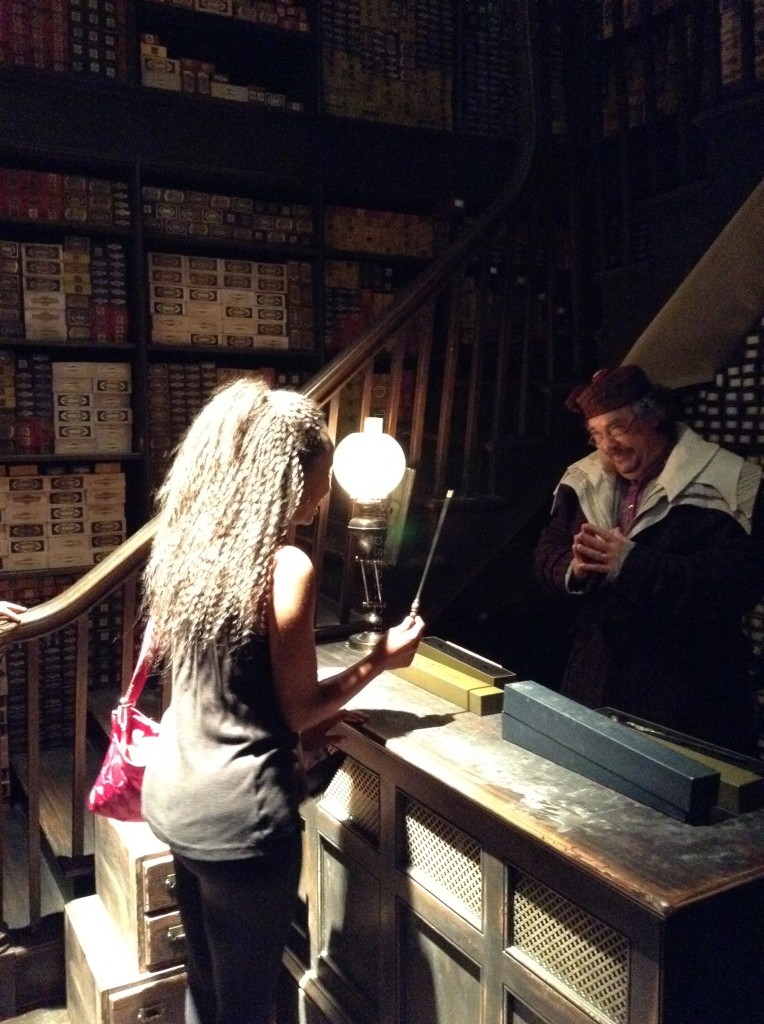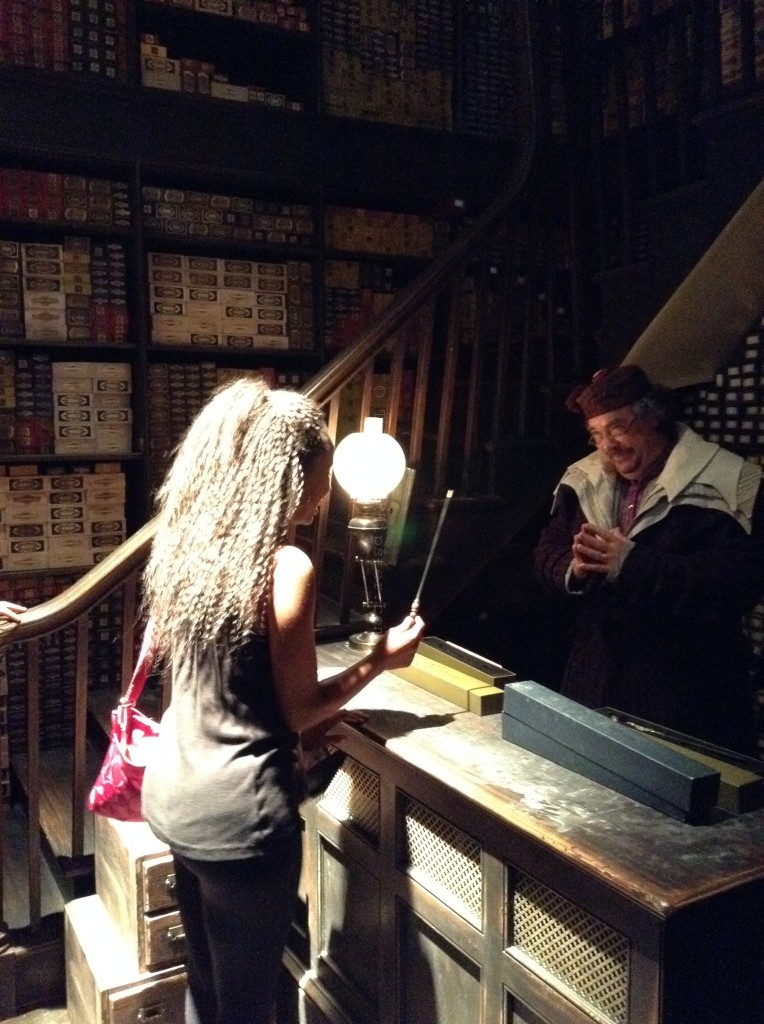 If you walk up to a long line, just remember it looks more vicious than it really is. The line usually goes by quickly with groups of about 15 guests for each performance.
Eat at the Three Broomsticks
I truly enjoy eating at the Three Broomsticks whenever I'm visiting Hogsmeade Village in Islands of Adventure. My theme park budget is usually thrown out the window as I engage myself straight into the Potter universe.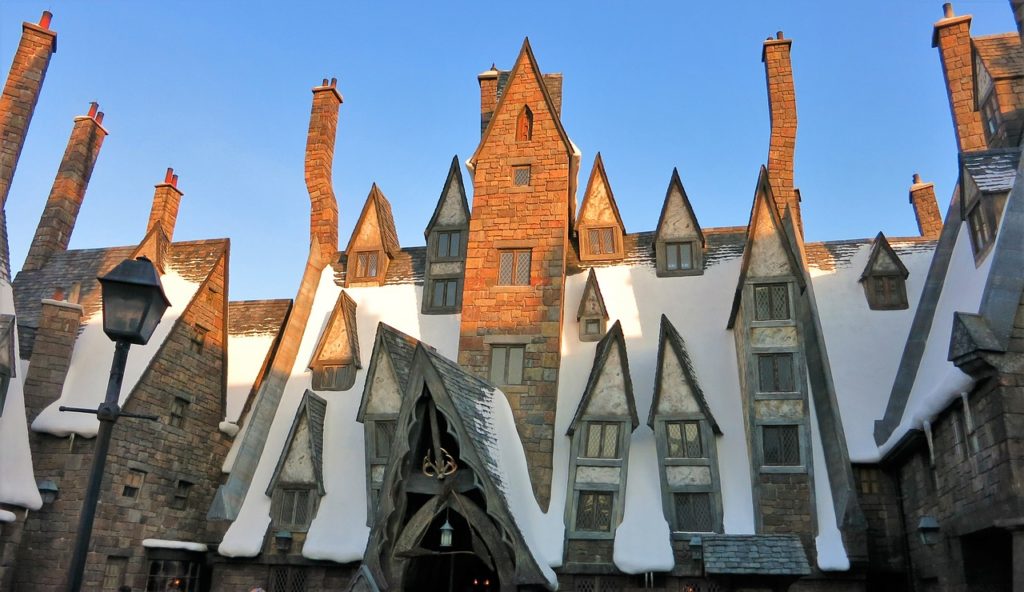 If you do plan to eat here, then come before the lunch rush or in the late afternoon. It's much quieter allowing you to really enjoy the unique restaurant theme. The Three Broomsticks serves breakfast, lunch, and dinner. The breakfast is a must do if you want to try a traditional English meal.
Have a Butterbeer
Frozen butterbeer on a hot Florida day is a cool way to enjoy Hogsmeade. However, a warm cup of butterbeer is my favorite version of this delicious beverage. Unfortunately, Florida is just way too hot on most days to revel in warm butterbeer.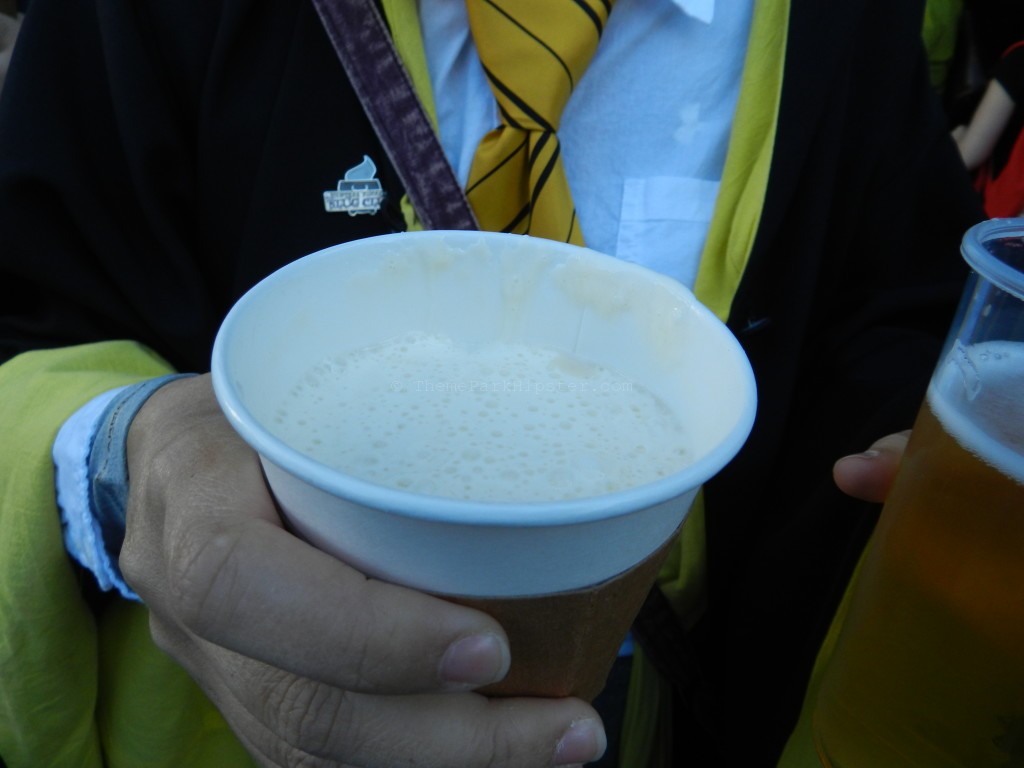 If you're not a fan of root beer but want to still try a rendition of it, then I suggest the warm version of butterbeer. Be sure to take your cup outside to the back of the Three Broomsticks, slip slowly, and enjoy the magnificent view of Hogwarts.
Look up, look down, look everywhere!
I love finding new things to do and explore in the Wizarding World of Harry Potter. For first timers you may be overwhelmed with every incredible detail going on. So here are a few cool things to look for:
The sounds of Moaning Myrtle in the restroom
The shadow of a house elf quickly walking upstairs in the Three Broomsticks
On the Forbidden Journey, check the cabinet left of the Fat Lady for props used in the film
Find bottles of Skele-Gro in Filch's Emporium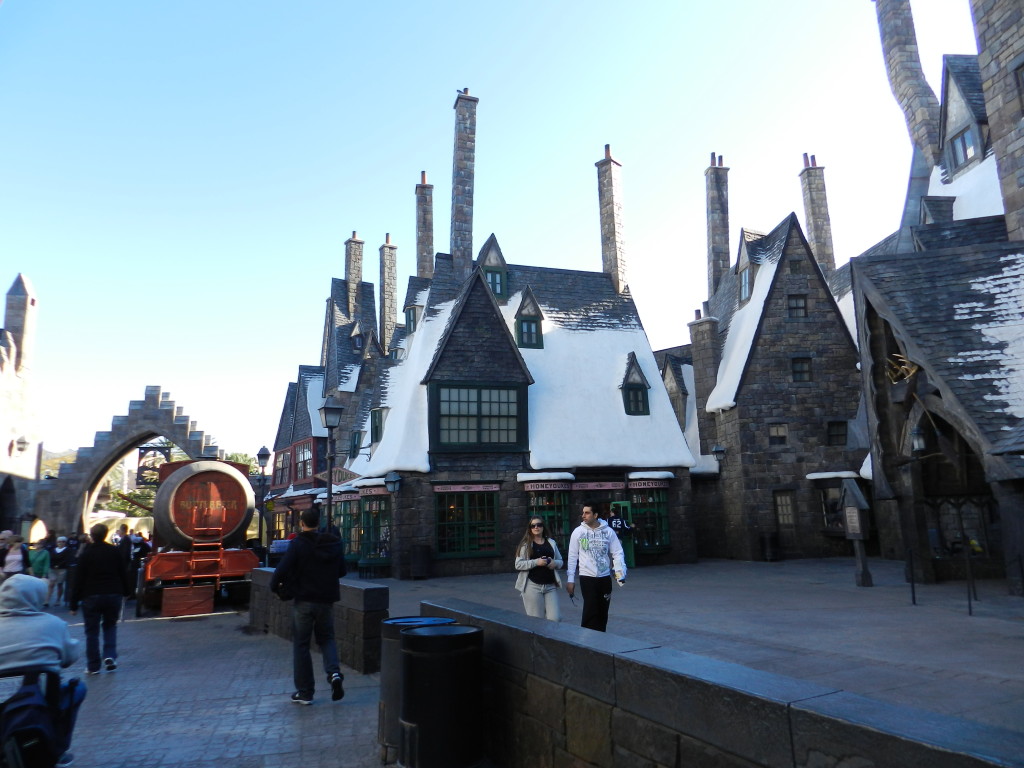 These are just a few fun ways to explore the Wizarding World of Harry Potter.
Lastly, have fun! Hogsmeade Village will whisk you away into an unforgettable world of magic.
Want more theme park tips? Check out the theme park tips page. If you're thinking about going to the Wizarding World of Harry Potter alone, then read the top 18 tips. Are you planning a Universal Orlando vacation soon? Read the Universal Vacation Planning Guide for your next dream trip!

If you enjoyed this article, then you'll love these:
For more theme park news, discounts, tips and guides, subscribe to the newsletter!
I'm super grateful when you share my posts on Facebook, Twitter, or Pinterest. It helps spread the word about ThemeParkHipster and allows me to keep bringing you great content.
Until next time, Happy Park Hopping Hipsters!
NikkyJ