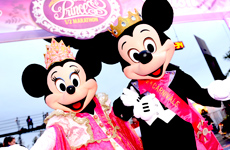 The single largest Run Disney Girl Power (Disney Princess Half Marathon weekend) event details have been released for 2015, which draws over 50,000 runners every year!
Are you joining thousands of princesses as they trade in their glass slippers for running shoes in a dream come true weekend? The annual Princess Half Marathon opened on July 15th for registration with the coveted Glass Slipper Challenge selling out in 2 hours. At the time of this writing 3 of the 4 events have sold out, with the all new Frozen inspired 5k sitting at 75%. This is an awesome event for all princesses, their princes and family. If you plan on running in one of the magical events that weekend, or are heading over to support the runners we have a VIP deal for you.
A Very Important Princess deal, that is.
Read MoreRun Disney Princess Half Marathon 2015 Details Released