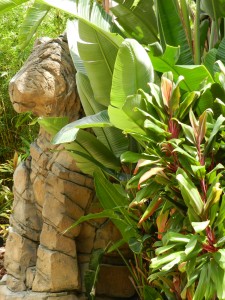 I finally had an opportunity to visit Busch Gardens Tampa Bay this week. I went with the intention of taking pictures for the site; however, I ended up getting on various thrill rides and getting caught up in the picturesque landscaping of the park.
My friend was getting extremely annoyed, because every few minutes I would stop to take a picture of the beautifully layered flowers and the lush trees outlining the park's pathway.
At one point he said, "I thought you were here to take pictures of the attractions and signage?"
It was at that point that I thought about how many times I've visited this place and never truly grasp the degree of care that the employees put into upholding the true beauty of Busch Gardens. A beauty that makes you feel as if you're in another world.