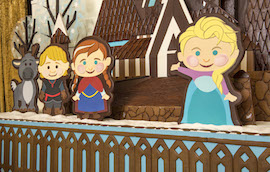 During this yuletide season Disney traditionally takes gingerbread house building to a new height, making Walt Disney World the premiere holiday must do for all things merry! Due to Frozen record breaking success, one would expect the Norwegian fairy tale to bring its artic chill across the parks.
Take a look at the amazing time-lapse video below of the all-new Gingerbread Holiday Ice Castle at Disney's Contemporary Resort, inspired by the film. The 17-foot-tall masterpiece is visible from the monorail as guests head to and from Magic Kingdom Park. The Frozen gingerbread castle took months to bake and five days to build. It is adorn with sugar snowflakes, gingerbread shingles and chocolate-coated trees with Anna, Elsa, Olaf, and more amongst the sugary creation.
Get the best price on your Walt Disney World Christmas Vacation Package… Guaranteed!
The pastry chefs combined 311 pounds of honey, 514 pounds of flour, 212 eggs, 67 pounds of spices, 222 pounds of icing and 423 pounds of chocolate to create this wondrous delight!
Check out the impressive video below.
By the way there are 14 "Hidden Olafs" in the display, too!
NikkyJ